Joe Jonas, Sophie Turner divorce news: Social media shocked, one says 'True love really doesn't exist anymore'
Joe Jonas and Sophie Turner are not on good terms as the couple decided to split up and get a divorce after 4 years of marriage and over 7 years of relationship. The couple started their family, with their first child due in 2020 and their second due in 2022.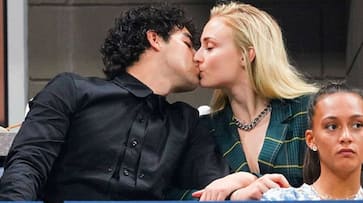 Joe Jonas and Sophie Turner, one of Hollywood's favourite couples, may end their marriage soon. According to TMZ, the pair is on the verge of divorce following six months of 'serious issues' in their matrimony. While there is no public indication of a rift between them, reports of their divorce have startled the internet. Turner once stated to the Sunday Times that she was dealing with mental health issues when she met Jonas for the first time. She said, "Having your adolescence being displayed in public, that's something I really wish hadn't happened. Being in the age of social media when that's happening, I think I would be a much saner person if I hadn't been documented from 13, your most awkward, uncomfortable, unsure-of-yourself years."
The couple met when the actress was only 20 years old, and she recalls that time in her life as one in which she was "going through this phase of being very mentally unwell." She said that Jonas had given her an ultimatum. "I can't be with you until you love yourself, I can't see you loving me more than you love yourself," he remarked, according to Sophie. That was remarkable, and I believe he saved my life in some ways."
Joe Jonas and Sophie Turner Marriage:
According to the report, Joe's representatives have contacted two divorce lawyers in Los Angeles as he prepares to file for divorce. According to a source, the singer has been caring for their two children most of the time, even on tour in the United States. At the Jonas Brothers ' New York performance, Sophie was recently seen with Priyanka Chopra and Danielle Jonas. However, Priyanka and Danielle were spotted together at last week's Texas performance.
The same report also mentioned, "On the surface, it seems there's been no outward signs of trouble. Joe and Sophie have attended events together. However, in recent weeks ... Joe has been seen not wearing his ring." Reportedly, Joe and Sophie have also sold their mansion in Miami which was purchased just a year ago.
Social media reacts to Joe Jonas-Sophie Turner divorce news:
Responding to the reports of Joe and Sophie's separation, someone shared, "Joe Jonas and Sophie Turner getting divorced?? True love really doesn't exist anymore. Only Ryan and Blake are my last hope now." One user wrote on X, formerly known as Twitter, "Joe Jonas and Sophie Turner are getting divorce like what the f**k is going on with 2023." "Joe Jonas and Sophie Turner getting divorced? True love really doesn't exist anymore," added another. One more tweeted, "Joe Jonas wrote "hesitate" for Sophie Turner what do you mean they may now be getting a divorce." 
About Joe Jonas and Sophie Turner
Following the Billboard Music Awards in 2019, they married in an impromptu wedding at a chapel in Las Vegas. An Elvis impersonator officiated their marriage, and they exchanged candy Ring Pop wedding rings. Sophie Turner and Joe Jonas have two kids. They had their first kid, Willa, in 2020, and a second daughter last year, the photo of whom they have not yet shared.
Later, the two married again in France with their family members and others. Nick Jonas and Priyanka Chopra were also a part of the wedding ceremony.
Last Updated Sep 4, 2023, 8:19 AM IST