Jeremy Renner health update: Actor reveals that he broke more than 30 bones in the snow plow accident
The "Avengers" actor was hospitalised for more than two weeks when the massive 14,000-pound (six-ton) truck toppled upon him while he was clearing a driveway.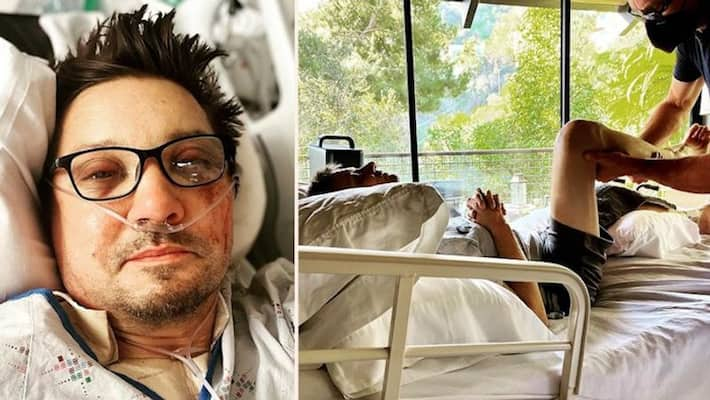 Days after his snow-plowing mishap, Avengers star Jeremy Renner offered an update on his health and a disturbing revelation. After undergoing surgery following the weather-related mishap, the actor was taken to the intensive care unit. He made a lengthy statement while sharing a photo of a person, presumably his doctor, assisting him in moving his leg.
It read, "Morning workouts, resolutions all changed this particular new year…. Spawned from tragedy for my entire family, and quickly focused into uniting actionable love ❤️ I want to thank EVERYONE for their messages and thoughtfulness for my family and I …. Much love and appreciation to you all. These 30 plus broken bones will mend , grow stronger, just like the love and bond with family and friends deepens . Love and blessings to you all 🙏❤️🙏."
Also Read: Kartik speaks trending dialogues in Shehzada; masses make his one-liners viral
His Avengers co-stars took to the comment section to wish him a speedy recovery. Chris Evans, famous for portraying Captain America's character, wrote, "That's one tough mf'er. Has anyone even checked on the snowcat???Sending so much love ❤️" while 'Thor' Chris Hemsworth wrote, "Your a champion mate! We love you"
Meanwhile, the actor spent the beginning of the year and his birthday in the hospital. He has been providing regular health updates since his accident. Anil Kapoor, another Bollywood actor, also wished him a happy birthday.
Also Read: James Cameron hails SS Rajamouli's RRR for its intriguing structure; said it is 'Powerful'
After being injured in Nevada, Renner was transported to the hospital in severe condition. Renner was previously reported to have used his Snowcat to assist a family member in getting their automobile out of the snow. Renner is said to have tried to climb back into the driver's seat to stop the vehicle from rolling but was crushed.
He turned to social media a few weeks ago to praise the medical personnel for their efforts. "Thank you for starting this journey, famous medical ICU team." "he said beside the photograph on his Instagram story section, adding a sequence of prayer emojis beneath the shot. Renner also released a video on Twitter where his sister could be seen rubbing his head and making her brother giggle as his mother looked on during what the actor claimed was a "spa time to raise my spirits."
 
Last Updated Jan 22, 2023, 10:38 AM IST