James Cameron hails SS Rajamouli's RRR for its intriguing structure; said it is 'Powerful'
In a recent interview with the noted filmmaker at the Golden Globe Awards, the Avatar fame iconic Hollywood director James Cameron lauded SS Rajamouli's global pan-Indian hit film RRR for its structure and filmmaking.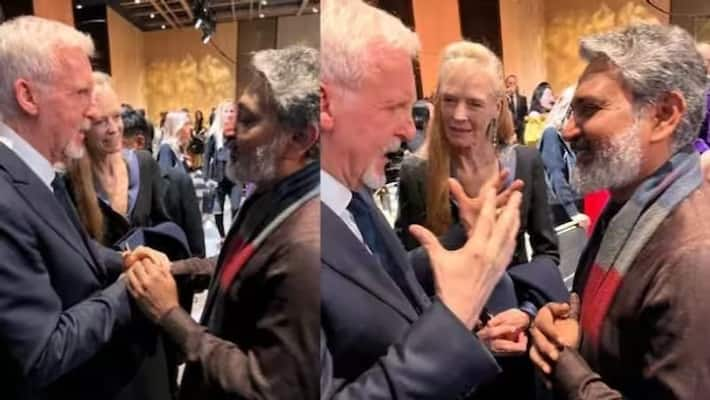 The nomination ceremony for the 95th academy awards is just around the corner. It is keeping members of the film fraternity around the globe on their toes. There is a lot of excitement and zeal among ardent fans and netizens. Because, this time from India, RRR has created a new benchmark by winning Golden Globes Awards and two Critics Choice Awards. It is also the main reason behind Indian fans wanting to know who is heading ahead in the Oscars 2023 nominations list.
During the Golden Globes awards at California on January 12, SS Rajamouli met James Cameron. According to a leading Indian news wire agency, James Cameron was highly impressed with the pan-Indian hit film RRR. He even talked with Rajamouli and gave his critique and rave reviews about loving the film structure and filmmaking style.
ALSO READ: AR Rahman votes for Oscars 2023 nominations, fans wonder it might be for RRR song 'Naatu Naatu'
Cameron said, "And the setup. Your fire, water story. Reveal after reveal. And then you show what happened in the back story. It's like all of them are a homely setup. Why he's doing what he's doing with the twists and turns and the friendship. It gets to a point where he can't even kill him when the other reverses. It's just so, so powerful."
Besides, the globally loved filmmaker James Cameron also wants to do a film with SS Rajamouli. Shedding more light on same, he revealed that if the noted pan-Indian filmmaker ever wants to do a film in the West, he can approach him. Cameron added, "If you ever want to make a movie over here, let's talk."
For those unaware, the noted filmmaker SS Rajamouli directed global blockbuster film RRR has become the only film from India to win a Golden Globe at the Golden Globes 2023 awards ceremony that happened last week at the Beverly Hills in California. Our Indian cinema has created a new world record and history in itself. The RRR song Naatu Naatu has won the Best original song award. In this song category, even Selena Gomez and Taylor Swift got nominated. The song left all these big names behind.
ALSO READ: Golden Globes 2023: Ram Charan feels proud to represent India at the awards ceremony
The nominations for the 95th Academy Awards will take place Tuesday morning (Tuesday evening in India), live from the Samuel Goldwyn Theater of the Academy. Oscar winner Riz Ahmed and M3GAN star Allison Williams are on board to announce the 2023 Academy Awards nominations. The awards ceremony will take place on March 12.
Last Updated Jan 21, 2023, 4:14 PM IST