Jada Pinkett finally talks about 'living' separately from husband Will Smith since 2016 - Know Details
In a recent interview, Jada Pinkett finally broke her silence on living separately from her husband, Will Smith, since 2016. She revealed that their main reason for separation without issuing any divorce is the 'difference' with one another.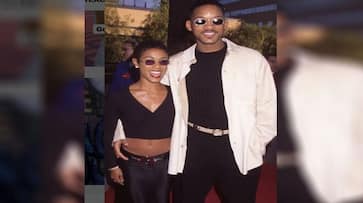 We would be stating the obvious by saying how Jada Pinkett Smith and Will Smith have been at the pinnacle of public fascination. It would be for their enduring and high-profile marriage. Their relationship, which began in the 1990s, has weathered its fair share of challenges and scrutiny, but the couple has consistently displayed a strong bond and commitment to one another. Jada Pinkett finally opened up and shared in her interview with Hoda Kotb on Today Show that she and her husband, Will Smith, have been living separately since 2016. While they are not officially divorced, they are no longer romantically involved. This revelation is part of her new memoir, Worthy.
ALSO READ: Rajinikanth FEVER: Superstar all set for 'Thalaivar 170'; currently in Tirunelveli
Talking about the reasons behind the fracture in their relationship, Jada mentioned that it was due to various factors. She revealed, "I think by the time we got to 2016, we were just exhausted with trying. I also think about how we were both stuck in our fantasy of what we thought the other person should be." 
In 2020, during the Red Table Talk Discussion, Jada revealed that she and Will were going through a rough patch. It is a highlight from their conversation back then. Will Smith told Jada, "I was legit done with your ass." Jada added, "Yeah, you kicked me to the curb. We broke up." Will Smith further revealed at the time, "We decided we were going to separate for a period of time. You go figure out how to make yourself happy. I go figure out how to make myself happy."
Although Jada seriously wanted a legal divorce, she told Kotb in her latest interview, "I made a huge promise that there will never be a reason for us to get a divorce. We will work through whatever. And I just have not been able to break that promise." Despite their separation, they still live apart and continue being deeply connected.
ALSO READ: Shah Rukh Khan wishes Amitabh Bachchan on his 81st birthday, pens heartfelt note; Read
Last Updated Oct 12, 2023, 11:37 AM IST