Jaane Jaan reveiw: Kareena Kapoor, Vijay Verma appreciated; but Jaideep Ahlawat's performance dominates
Twitter users praise Jaideep Ahlawat's standout performance in "Jaane Jaan." Kareena Kapoor and Vijay Varma also earn accolades, but Ahlawat steals the show. The crime thriller, based on a Japanese novel, receives mixed reviews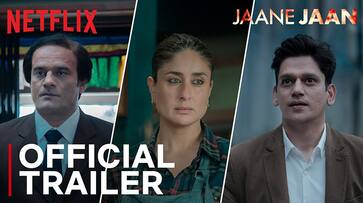 Sujoy Ghosh's latest offering on Netflix, "Jaane Jaan," has been making waves among viewers. The crime thriller features Kareena Kapoor as a single mother, Jaideep Ahlawat as a math teacher, and Vijay Varma as a cop. Twitter users have been buzzing with their thoughts, and it's clear that Jaideep Ahlawat has become the talk of the town with his remarkable performance.
Jaideep Ahlawat's Acting Triumph: On Twitter, fans couldn't contain their admiration for Jaideep Ahlawat's exceptional acting skills. One user enthusiastically exclaimed, "My goodness, what is Jaideep Ahlawat made of??? My soul left my body after that last conversation between him and Maya in #JaaneJaan."
Another user applauded Ahlawat's performance, stating, "#JaaneJaan - hats off to Jaideep Ahlawat for his superb acting. Vijay Varma and Kareena appeared as sidekicks in comparison. The plot was refreshingly crisp, and I loved it."
Praising Ahlawat's layered portrayal, a third user remarked, "@JaideepAhlawat, what a performance! Your character was intricately depicted and effectively communicated. You absolutely nailed your role! (applause emoji) It's performances like these that define cinema! #JaaneJaan."
One more user couldn't help but gush, "#JaaneJaan is incredibly gripping. A pure edge-of-the-seat thriller. #Bebo delivered a fearless performance, and #Vijay exuded charm. However, @JaideepAhlawat completely stole the show with his brilliant performance."
A reviewer aptly summed it up, "#JaaneJaan is a well-executed crime mystery thriller. #KareenaKapoor looks stunning and delivers a powerful performance, #VijayVarma brings his charming screen presence, but it's clear that #JaideepAhlawat steals the spotlight with his unsettling portrayal."
Chemistry on Screen: Twitter users also weighed in on the chemistry between the cast members. One user shared stills from a scene where Kareena sings the title track at a karaoke bar with Vijay and enthused, "I AM OBSESSED #JaaneJaan."
Another user compared on-screen pairings, writing, "Maya & the Teacher >>> Karan & Maya #JaaneJaan (red hearts emoji)."
A fan declared Kareena's performance as the standout, saying, "Congratulations on a mesmerizing performance in Jaane Jaan, released on Netflix today. Equally well supported and performed by @JaideepAhlawat and @MrVijayVarma. A must-watch."
Another fan called "Jaane Jaan" a delightful birthday treat for Kareena, sharing, "Finished #JaaneJaan, and @JaideepAhlawat, you are amazing. #KareenaKapoorKhan, as usual, delivered a stellar performance. @MrVijayVarma was equally impressive. All three delivered their roles naturally (red heart emoji) (fire emoji). What a treat we got on Bebo's birthday."
About Jaane Jaan: "Jaane Jaan" is an adaptation of the 2005 novel "The Devotion of Suspect X" by Japanese author Keigo Higashino.
While Twitter users lauded the performances, a review from The Hindustan Times offered a more critical perspective, stating, "In the climax sequence, as the mystery-solving unfolds through a series of flashbacks, or as the puzzle pieces start falling into place, it becomes evident that the puzzle may never have existed in the first place. Instead, it appears to be a series of events arranged to make sense of the last two hours of viewing.
ALSO READ: Amy Jackson's latest look draws comparisons to Cillian Murphy, 'Oppenheimer' star
Last Updated Sep 22, 2023, 9:21 AM IST