Irrfan Khan's son Babil get emotional when Ayushmann Khurrana, Rajkummar Rao said this about his father: Video
Irrfan Khan's elder son Babil breaks down into tears as he accepts an award on his father's behalf at Filmfare awards 2021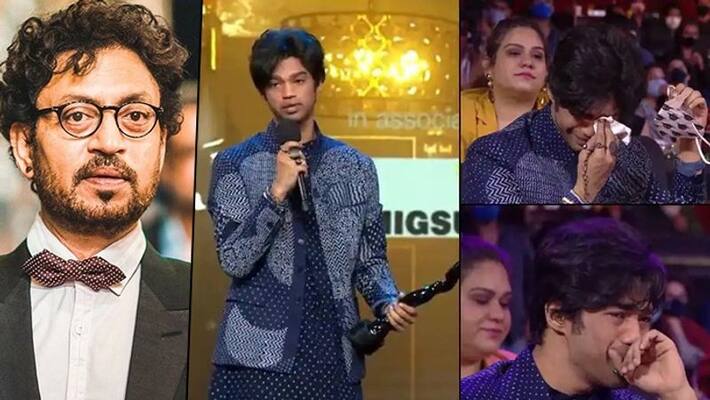 One of the most talented artist like Irrfan Khan is no more with us, but his movies will always remind us of him. Irrfan left for his heavenly abode on April 29, 2020, due to cancer. 
Recently at Filmfare Awards, Irrfan Khan posthumously awarded with the 'Best Actor' and 'Lifetime Achievement' honour. The Piku actor was given the Lifetime Achievement award for his contribution to Indian cinema over the years. To collect his award Irrfan's son Babil Khan was called on the stage.
Babil Khan was present in the audience. As soon as hosts Riteish Deshmukh, Rajkummar Rao and Ayushmann Khurrana started speaking about the late actor, Babil just couldn't stop his tears. Rao said, "The future generations will also learn a lot from you sir."
After reciving the award Babil said, "I am so grateful that you all accepted me with open arms and you gave me so much love and warmth. You and I will make tRecihis journey together. We will take Indian cinema to newer heights," Babil said. 
In the video, Rao was seen shed a tear as Babil delivered a speech on his father's behalf.
Babil donned his father's clothes and was styled by his mother Sutapa Sikdar.
Last Updated Apr 9, 2021, 1:32 PM IST