ICC Cricket World Cup 2023: Anushka Sharma seen cheering for husband Virat Kohli at Wankhede; Read
Anushka Sharma, rumored to be pregnant with her second child with Virat Kohli is attending the India vs New Zealand World Cup 2023 semi-final match in Mumbai. Despite keeping a low profile, her public appearances and celebratory moments at matches fuel speculations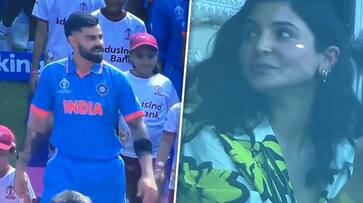 Anushka Sharma was seen in the stands cheering for her husband, Virat Kohli, during the highly anticipated World Cup 2023 semi-final match between India and New Zealand in Mumbai on Wednesday, November 15. The actress, who is rumored to be expecting her second child with Virat Kohli, was spotted wearing a stylish floral printed outfit, capturing the attention of fans and media alike.
This isn't the first time Anushka has shown her unwavering support for Virat and Team India during the World Cup 2023. Earlier in the tournament, she attended the India vs Pakistan match in Ahmedabad and later made her way to Bengaluru to cheer on Virat during the India vs Netherlands match. In a viral video from the latter match, Anushka could be seen celebrating with joy after Virat took a wicket.
Anushka, known for her stellar performances on screen, has been maintaining a low profile and staying away from the media, particularly since rumors of her pregnancy surfaced. Reports suggest that she and Virat are expecting their second child, with a source revealing to Hindustan Times a few weeks ago, "Anushka is expecting her second baby. Like the last time, they will formally share the news with the world at a later stage." The source also explained Anushka's recent absence from public appearances, stating, "This isn't a coincidence. She is staying away from the public eye to avoid speculation."
Despite her efforts to keep a low profile, fans have managed to catch glimpses of Anushka's baby bump on a few occasions. Most recently, her baby bump was visible when she joined Team India and their families to celebrate Diwali. A video released by the Board of Control for Cricket in India (BCCI) provided fans with a sneak peek of Anushka's pregnancy journey.
ALSO READ: Courteney Cox pens heartfelt note for her 'Chandler Bing' aka Matthew Perry two weeks after his demise; Read
Last Updated Nov 15, 2023, 2:58 PM IST