IAS officer turned actor Abhishek Singh lauded by Twitterati for Chaar Pandrah
"#ChaarPandrah" is trending on Twitter along with 'Abhishek Singh IAS' with loads of appreciation flowing in for the masterpiece that is 'Chaar Pandrah'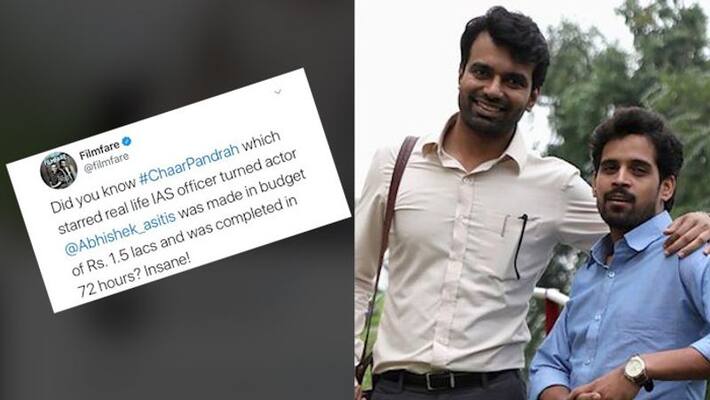 If you don't know much about Abhishek Singh, he's an IAS officer turned actor and took his first step in acting with Delhi Crime season 2 and recently starred in the student made film 'Chaar Pandrah'.
"#ChaarPandrah" is trending on twitter along with 'Abhishek Singh IAS' with loads of appreciation flowing in for the masterpiece that is 'Chaar Pandrah'. 
Here's what the audience has to say:
 
"it's so good see #ChaarPandrah . The whole Short movie is made very intelligently, especilly the last scene. Great performance by Abhishek Singh IAS"
No one should miss this.. The short film #ChaarPandrah starring Abhishek Singh IAS was absolutely excellect. Can't believe it was shot by students....
Must watch this.. Abhishek Singh IAS packs a great great performance in his latest short film #ChaarPandrah
Recommending everyone to watch this short psychological thriller #ChaarPandrah it's made by students under a minimal budget and includes a brilliant performance by Abhishek Singh IAS 🙌🙌 #MustWatch
I really Loved the short film #ChaarPandrah . Superb work by the students and Abhishek Singh IAS . This is what happens when we encourage fresh talent. The movie truly deserves a 10/10 rating

With the appreciation the film has been receiving, it's proof of how content is king. This shows how hardwork and dedication towards a certain thing can work wonders. The film is now streaming on Disney+ Hotstar encouraging more such talents to come across.
The psychological thriller was first released on YouTube where it turned heads and everyone started talking about how the 20 minute short film is a master piece. On unearthing more information about the film, it came as a big surprise for everyone that the film was made by students in just less than 72 hours and a tight budget of 1.5 lakhs.
A very thoughtful narrative that Chaar Pandrah rests upon, the short film has also been the official selection at Mumbai Shorts International film festival, 50th International Film Festival of India - Goa, and other prominent fests. Abhishek Singh's character truly is a treat for the audience.
Last Updated Jul 8, 2020, 8:09 PM IST