Here is the truth behind Jacqueline Fernandez's smile at Sridevi's funeral
Actress Jackqueline Fernandez was found smiling in one of the pictures clicked during her arrival to the venue where Sridevi's body was present
She was trolled heavily by the people, as the picture went viral
However, here is a video of Jacqueline playing the piano as a tribute to Sridevi
Sridevi reportedly had an accidental fall into the bathtub in the hotel she was staying in Dubai on February 24, which led to her death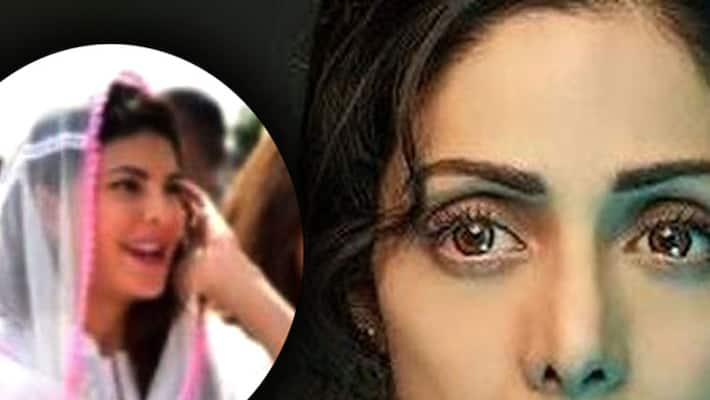 Actress Jacqueline Fernandez is being trolled, after a picture of her smiling at the funeral of diva Sridevi surfaced
Jacqueline was captured by the shutterbugs at the Celebration Sports Club in Lokhandwala, where Sridevi's body was kept for final viewing. Jacqueline looked like she was smiling. As soon as the photo was on social media, Jacqueline received the wrath of the people, who criticised her for the insensitive gesture.
Here is the photo:
For everyone slamming Jackqueline Fernandez, she was smiling at someone to say hi not because she was at a funeral. Watch the video properly.#SrideviFuneral pic.twitter.com/mXlTuTtwW7

— Janhvi Kapoor Fanpage (@JanhviKapoorFP) February 28, 2018
However, some reports also stated that she was not smiling but was trying to talk to someone. May be it is important to understand that even small little gestures matter and does this mean that the celebrities should be on their toes always, scared to be themselves in front of the camera?
Here is a video of the same Jackqueline giving Sridevi a tribute through music, before the funeral and this controversy sparked up. 
Jackqueline Fernandez đã chơi 1 bản nhạc để bày tỏ lòng tôn kính của mình với nữ diễn viên quá cố Sridevi. pic.twitter.com/QZBrDgA9Iq

— ZeePhimChannel (@ZeePhimChannel) February 27, 2018
Popular actress Sridevi had died after she fell accidentally into the bathtub in the hotel she was staying in Dubai on February 24. She was in Dubai to attend her nephew Mohit Marwah's wedding.  Sridevi's final rites were performed at Vile Parle in Mumbai on February 28.
Last Updated Apr 4, 2018, 7:11 PM IST