Harrdy Sandhu recalls stage harassment says, 'A lady hugged me, licked my ear'
Harrdy Sandhu revealed that a woman insisted on dancing with him even after he refused and later she hugged him and licked his ear.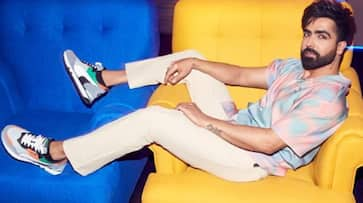 Singer and actor Harrdy Sandhu is all set for his first India tour in November. Ahead of this, he opened up about a stage harassment that he previously faced. In an interview, he recalled how a woman misbehaved with him during a concert. 
Harrdy Sandhu's statement
"There was a private wedding about a half or two years ago. During the concert, a woman from the audience misbehaved with me on stage. In front of me was a lady in her mid-30s, 40s, or 45s, anywhere between these years. She was dancing and inviting me to join her on stage. 'If I call you, other people will want that as well, and it will be difficult,' I warned her. But she refused to budge."
He continued by saying that the lady came on the stage and approached him and asked to dance with him to a song. To which he agreed and after dancing to one song he asked, "Okay, now are you happy?"  She then inquired, 'Can I hug you?' Okay, I said. She hugged me and licked my ear."
Upset with her behavior, he said to the interviewee, "Consider that for a moment. What if the tables were turned? What could I possibly have said? These things occur."
Harrdy Sandhu's India tour
The popular musician will begin his India tour on November 18 in Delhi NCR and will play at the DOME SVP Stadium in Mumbai on December 17.
Harrdy is largely regarded as one of the major Punjabi celebrities, with an incredible repertoire that includes over 15 studio hits. In 2021, his single 'Bijlee Bijlee' got major international acclaim, debuting at number 150 on the Billboard Global list. 
He was also part of Kabir Khan's sports-drama film '83', where he shared the screen alongside Ranveer Singh and Deepika Padukone and made his Bollywood debut.
Last Updated Oct 31, 2023, 12:37 PM IST