Halahal: Director, producer get candid about suspense thriller served with sharp casting, moral message
Director Randeep Jha and producer Zeishan Quadri spoke about putting the film together, casting and coming up with a catchy name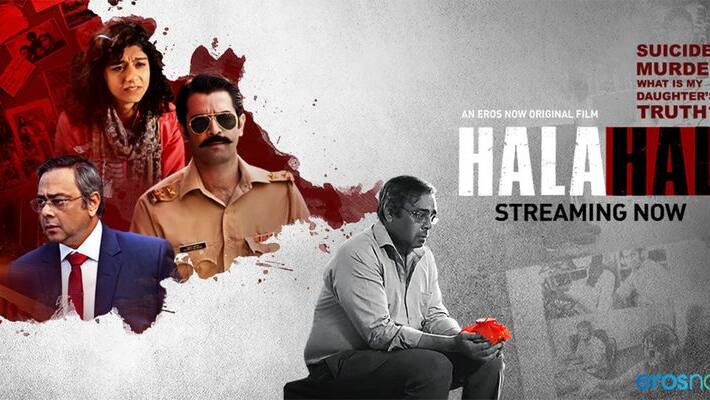 Mumbai: 'Halahal' - a gripping crime thriller inspired by true events is garnering immense praises from fans and critics all over the country. The crime thriller establishes a perfect contrast of suspense, crime, thrill and the portrayal of a father's quest to find justice for his daughter.
The captivating storyline showcases well-known actors such as Sachin Khedekar along with Barun Sobti in the lead roles.  The heart touching narrative of a father's journey in search of the truth behind his daughter's death has amazed the audiences to the very core.
Director Randeep Jha and producer Zeishan Quadri got candid and shared the experience of putting this crime masterpiece together. The duo shared some insights about shooting and building these two intense characters on screen.
On the release of the trailer it received humongous response from cinema lovers as the crime angle with a hint of suspense and the endearing relationship of father and daughter held many people captive.
Producer and story writer Zeishan Quadri talking about the move said, "Eros supported us immensely. The whole process of bringing the movie together was amazing. Being the writer. I could feel the depth of the movie.
Barun Sobti's character comes as a surprise for the fans. 'We shot in Ghaziabad and Amroha. It was no one better than Sachin to play the character of father. It's inspired from true events and the audience will love the entire plot of the movie."
"The film is a whole package of suspense, crime, thriller and social message," added Quadri.
Talking about the process, Randeep says, "We were convinced with the script. We got good support from Eros for exploring the location, cast. So, freedom was given. The process was very interesting, and we started shooting."
Talking about the two central characters of the movie played by Barun and Sachin and the prep for the role, Randeep said, "We wanted the cast to stand out and hence , for the father's role we were looking for someone with more experience in life, innocence and honesty, and Sachin sir was the best fit."
"For the role of the cop we were looking for someone who is very young but a natural actor as both characters have very different journeys"
They shot on a tight schedule, but it was truly worth it. Talking about Barun's character, which has been getting immense praise, Randeep said, "Barun brought the perfect charm in the character. He went into the skin of the character and it will be a treat for the audiences to watch him in a new form and role."
Randeep also shared his views about the OTT revolution, "I think people's interest has grown because of the lockdown. Now people are watching more content and it's a good change. Even we receive appreciation from various places because the OTT platforms have brought that change."
The name of the movie is absolutely catchy, talking about it he said, "We were discussing a few names and we wanted a name that would sound good to the ears and would have a good meaning too. The moment we came up with Halahal, it just felt right. We got an amazing response for the name from the audience."
Last Updated Sep 25, 2020, 7:57 PM IST