Grammy Awards: Song featuring PM Narendra Modi's speech earns prestigious nomination
Grammy nod for 'Abundance In Millets,' a song featuring PM Narendra Modi's speech, advocates millet importance. Falu and Gaurav Shah's musical creation blends artistry with a sustainable agriculture message.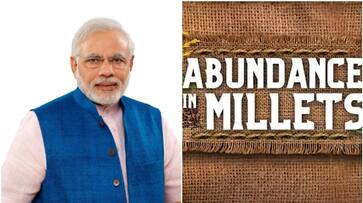 A musical composition centered around the significance of millets, featuring a speech by Prime Minister Narendra Modi, has garnered a nomination for the prestigious Grammy Awards in 2024. Crafted by the talented duo Falguni and Gaurav Shah, the song, titled 'Abundance In Millets,' seeks to raise awareness about the vital role of millets in agriculture and nutrition.
The composition, nominated in the 'Best Global Music Performance' category, incorporates excerpts from Prime Minister Modi's address during the inauguration of the Global Millets (Shree Anna) Conference in March of the same year. In his speech, the Prime Minister had expressed "I am glad that today, as the world is celebrating 'International Millet Year', India is leading this campaign." He had also added that with the efforts of the farmers and citizens, 'Shree Anna' will add a "new dimension to the prosperity of India and the world".
The song by Falu and Gaurav Shah not only captures the essence of Prime Minister Modi's impactful speech but also sheds light on the intrinsic qualities of millets. Known for their resilience and adaptability to diverse climates, millets emerge as a secure crop choice for small-scale farmers, thriving in both hot and drought-prone environments. India boasts the cultivation of all nine well-known traditional millets.
Falu Shah, a multiple-time Grammy nominee, clinched the coveted award in 2022 for 'Best Children's Album' with her creation 'A Colorful World.' Collaborating with her husband Gaurav, the duo has previously worked together on various projects and shared musical endeavors as part of their band 'Foras Road.' In the 'Best Global Music Performance' category, their song faces competition from six other noteworthy compositions.
ALSO READ: Diwali 2023: Akshay Kumar, Twinkle Khanna and Preity Zinta attend UK PM Rishi Sunak's celebration in London
Last Updated Nov 11, 2023, 3:46 PM IST