Farhan Akhtar's Toofaan first song pays tribute to all superheroes; watch it here
Featuring 'India Ke Toofaan' - decorated boxers from across India, the video for Todun Taak is scripted and directed by Navzar Eranee and produced by Walkabout Films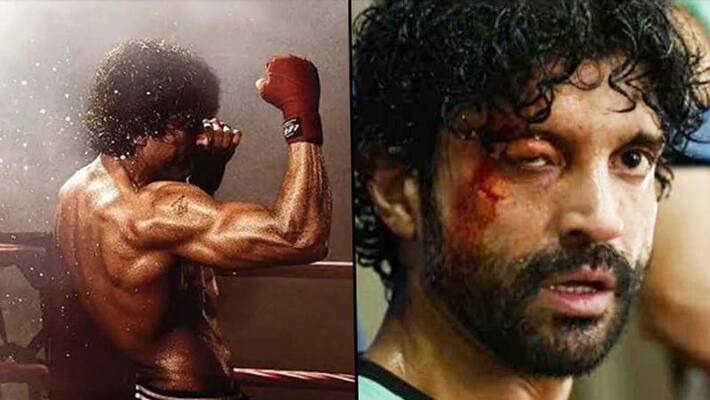 After impressing audiences with the trailer of Farhan Akhtar starrer, Amazon Prime Video today launched another impactful video for the film's song Todun Taak. 
The high-octane music video helps the audience with the power of one's inner strength, willpower and the courage to fight against all odds and features "India Ke Toofaan" - boxing champions from across the country. 
The video features the real heroes of Indian boxing including  - World Championship Gold, Silver and Bronze Medalists Laishram Sarita Devi, Sonia Chahal, Kavita Chahal, two-time Youth World Champion Nitu Ghanghas and Indian International Boxing Championship Gold Medalist Thulasi Helen along with three-time WBC Asia Title Holder - Neeraj Goyat and State Championship Silver Medalist - Aman Jhangda, the All India Federation Cup Medalist - Gagan "The Pitbull" Sharma, National Boxing Championship Gold and Bronze medalists - Arbind Kumar Prasad and Binod Kumar Prasad and East Zone National Boxing Championship Gold and Silver medalists - Swayam Mallik and Binit Gurung. The video was filmed with the support of the boxing community and academies like Bhiwani Boxing Club (Haryana), Sarita Regional Boxing Academy (Manipur), Balaji Boxing Club (Kolkata), Bhowanipur Boxing Association (Kolkata), Najafgarh Boxing Academy (Delhi) and Ryûko Training Center (Las Vegas).
Todun Taak is brought to life by eminent rapper D'Evil aka Dhaval Parab and music producer Dub Sharma. Todun Taak is an ode to fighters and a call to 'fight' even in the face of annihilation and imminent defeat. Those that fight inside the ring so that they can have a better life outside of it. The fight our warriors face is often against oppression, sexism, bullying, poverty, towards self-defence, a better chance at life. 
The video aims to bring glory to the fighters who almost got knocked out and got back on feet, inside and outside the ring. Ab sahi mein toofaan uthega! The action-packed and adrenaline-pumping video has been edited by Anushka Manchanda and Sachin S. Pillai, who has also shot the video. 
Produced by Walkabout Films along with Ananya Dasgupta as Executive Producer, the video is scripted and directed by Navzar Eranee and opens with the voice of Toofaan, Farhan Akhtar.
Last Updated Jul 5, 2021, 1:49 PM IST