Does Gigi Hadid feel 'uneasy' with Taylor Swift's 'blooming love' rumours with Travis Kelce? Know details
Taylor Swift and Gigi Hadid have been best friends for years now. But when appearances of the Grammy-winning artist and 'Lover' singer Taylor Swift at Travis Kelce's games made their way to the headlines, the model was not present anywhere in sight. Scroll down to find out more on the same.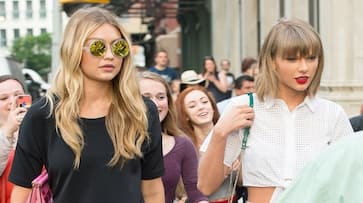 Taylor Swift has been making news recently for her relationship with Travis Kelce. According to news reports, the rumoured couple recently started dating each other after meeting for the first time at the VMAs after-party, but that has not stopped the two from publically seeing each other. In fact, this might be Swift's most published relationship in recent times. However, the singer's close friend, Gigi Hadid, feels uneasy. According to recent media reports and updates, Gigi is not in favour and dislikes how the 'Lover' singer Taylor handles her new relationship with the football player.
ALSO READ: Salman Khan was not first choice to play Chulbul Pandey in Dabangg? Read more
As per a source who talked to a globally leading weekly entertainment portal, Hadid is not really that fond of the new relationship between Taylor and Travis Kelce, especially now that things are unfolding recently. The source said, "One of the reasons Gigi has not attended any games of Travis is because she does not agree with the way Taylor has been acting with him." Kelce and Swift met only a couple of months ago, and already the public has labelled them the IT couple, which, according to the globally loved supermodel, might be taking it too far, too quickly, the source in the report revealed. The insider added, "She feels like Taylor is doing too much, too soon."
For the unversed, the Shake It Off singer has been attending the Kansas City Chiefs games with her closest friends. It has become a trending topic on every new portal, offline and online, on every single media portal and website. But as for Gigi, she was not witnessed at any of these outings.
Travis Kelce revealed on his New Heights Podcast in July that he tried to slip his number to Taylor Swift on her Eras Tour stop in Kansas City. As many might know, Swifties have a tradition of making friendship bracelets to wear to the 33-year-old's concerts. The footballer, keeping in line with the practice, made friendship bracelets. One of them was for Swift with his number on it. He said, "I was disappointed that she doesn't talk before or after her shows because she has to save her voice for the 44 songs she sings." Kelce admitted that he was a bit "butt-hurt."
ALSO READ: Elvish Yadav's video with snakes wrapped around his neck goes viral, singer Fazilpuria clarifies
Last Updated Nov 10, 2023, 11:59 AM IST