Elvish Yadav's video with snakes wrapped around his neck goes viral, singer Fazilpuria clarifies
Singer Fazilpuria's name has come up in the snake venom case after a video from the singer's album went viral in which Elvish Yadav is seen with a snake around his neck.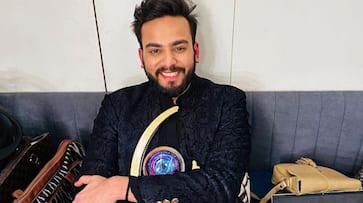 Elvish Yadav has dominated headlines since his name surfaced in the Noida Snake Venom Case. Following his questioning by Noida police in connection with the matter, the YouTuber and Bigg Boss OTT 2 winner's video with snakes around his neck became popular on social media. However, singer Fazilpuria has since stated that the viral video was shot during one of his album shoots.
Fazilpuria clarification statement 
In an interview, musician Fazilpuria said, "My name has come up as a result of a viral video in which Elvish is seen with a snake around his neck. Maybe the cops asked him about it, and he told them it was from Fazil Bhai's album shoot." 
He further said, "Actually, I released a video two days ago in which I stated that this video is from the filming of my album. This has absolutely nothing to do with any rave party. This video features several more Haryana vocalists in addition to Elvish. It was shot in my Gurgaon hometown of Fazilpur. There was a building where the complete set was housed."
About snakes in the video 
"The snakes are kept with the production team. These are frequently required in between shoots. There are helicopters and horses in my song...A lot of items were required, and the snake played an important role. I had them outsourced from a specialized manufacturing company." he clarified. 
Elvish Yadav case
Elvish's name was mentioned at a rave party where snakes and venom were discovered. Later, Maneka Gandhi, a lawmaker and animal rights activist, accused the YouTuber of delivering snake venom to rave events in Noida, Uttar Pradesh. Elvish was recently detained at a checkpoint in Rajasthan's Kota in connection with the case but was later freed. On November 7, he was also questioned in connection with the matter.
Last Updated Nov 10, 2023, 11:26 AM IST