Did Farhan Akhtar bow out of Aamir Khan's next? Read to know more
Farhan Akhtar exits Aamir Khan's "Champions" remake due to prior commitment to "Don 3." The film is postponed to 2024, focusing on casting. Aamir Khan's "Champions" is inspired by the Spanish Aderes team with intellectual disabilities, while "Don 3" features Ranveer Singh in the lead role, slated for a 2025 release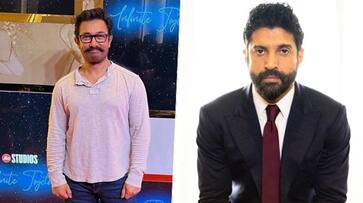 Farhan Akhtar was originally set to star in Aamir Khan's sports drama film titled "Champions." This movie is a remake of the 2018 Spanish sports dramedy, "Campeones." However, Farhan has decided to step away from the project.
Originally, the film's production was scheduled to begin in October, but it was later postponed to January 2024. This delay was due to the need to cast additional actors for the project. Unfortunately, Farhan Akhtar had to bow out of "Champions" because he has committed to working on "Don 3," a film that he recently announced. The pre-production work for "Don 3" will occupy his schedule starting next year, making it impossible for him to participate in "Champions." In light of this, Farhan personally informed Aamir Khan of his decision to exit the project.
ALSO READ: Kalki Koechlin opens up on divorce with Anurag Kashyap; throws light on their current relationship
"Champions" is based on the inspiring true story of the Aderes team of Valencia, which was composed of individuals with intellectual disabilities. This team achieved remarkable success, winning 12 Spanish championships in just 15 years. Aamir Khan aims to adapt this heartwarming tale to Indian audiences and provide it with his unique touch. His previous film, "Laal Singh Chaddha," was also a remake of the Hollywood classic "Forrest Gump."
Farhan Akhtar, renowned for his successful remake of Amitabh Bachchan's 1978 film "Don" with Shah Rukh Khan, recently announced "Don 3." Notably, in this installment, Ranveer Singh will take on the titular character, replacing Shah Rukh Khan. The project generated excitement with the release of a logo and a teaser video featuring Ranveer Singh. "Don 3" is scheduled to begin shooting in mid-2024, with an anticipated release date in 2025. There have been speculations that Kiara Advani might reprise the role of Roma, originally portrayed by Priyanka Chopra in the earlier installments.
ALSO READ: 'Maybe photoshop': Alia Bhatt faces flak from netizens for turning 'unrecognizable' in recent magazine cover
Last Updated Sep 2, 2023, 4:41 PM IST