'Delighted to know you found joy...' PM Modi reacts to Mick Jagger's musical 'Thank You India' note
Prime Minister Narendra Modi expressed appreciation for rock legend Mick Jagger's "thank you, India" note on X, acknowledging Jagger's joy among the people and culture of India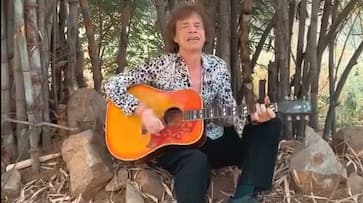 Prime Minister Narendra Modi on Saturday appreciated Rock legend Mick Jagger's gesture of sharing a "thank you, India" note on X (formerly Twitter). Sharing Mick's post, PM Modi said: "'You Can't Always Get What You Want', but India is a land brimming with seekers, offering solace and 'Satisfaction' to all. Delighted to know you found joy among the people and culture here."
The Rolling Stones Founder Mick Jagger, a passionate sports enthusiast, made an appearance in Kolkata for the ongoing ICC World Cup. While reportedly a guest of the England cricket team, Jagger attended the England vs Pakistan match at Eden Gardens last week. 
Ahead of the World Cup final, Jagger treated fans to a video featuring himself under a tree with his guitar. In casual attire, the 80-year-old singer delighted everyone by performing the superhit track "Dreamy Skies" from The Rolling Stones' recently released studio album, "Hackney Diamonds."
Expressing gratitude to India in both English and Hindi, Jagger wrote, "Thanks India. Got away from it all here! Dhanyavaad aur Namaste Bharat. Roz ke kaamon se dur, idhar akar mujhe badi khushi hui. Aap sabko bahut pyar. Mick Jagger [Thank you and Namaste India. I am very happy to come here. With much love to you all, Mick Jagger.]"
Jagger, a rock music legend, extended Diwali and Kali Pujo wishes a day after attending the England vs Pakistan match. He shared pictures and a video on Instagram, writing, "Happy Diwali and Kali Pujo. Shubh Deepavali aur Jai Kali Ma [Happy Diwali and Jai Maa Kali]."
In a recent interview with The Times Of India, Jagger revealed the connection between The Rolling Stones logo and India, explaining that it was inspired by an "image of a disembodied tongue of Kali." He spoke about his brother's early travels to India and how the logo's modernistic version was created by designer John Pasche based on the inspiration from the tongue of Kali.
Mick Jagger has been actively involved in charitable efforts, including participating in a four-hour online concert in 2020 to raise funds for COVID-19 in India, organized by Bollywood filmmakers Karan Johar and Zoya Akhtar. Known for iconic hits such as "You Can't Always Get What You Want," "Sympathy for the Devil," and "Gimme Shelter," Jagger received a knighthood for services to popular music in 2002.
Last Updated Nov 18, 2023, 1:53 PM IST