Bigg Boss 17: Abhishek Kumar finally reveals his undying 'love' for ex Isha Malviya; shares, 'Can't move on'
Bigg Boss 17 premiered on October 15, with Salman Khan returning as host. While the exes Abhishek Kumar and Isha Malviya had a massive fight during the premiere, the situation between the two seems to have changed now as the former recently expressed his feelings for the actress.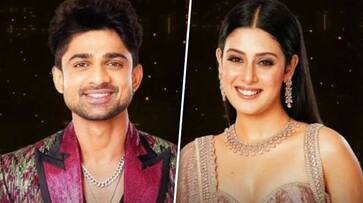 With drama, fights and changing equations, the iconic, popular and controversial reality show Bigg Boss 17 has returned to our TV screens with global icon and 'Tiger' of Bollywood, Salman Khan reclaiming his role as the host. The season has garnered attention due to its eclectic list of contestants, which includes the intriguing ex-couple Abhishek Kumar and Isha Malviya. Things got off to a rocky start for the former partners, as they engaged in a heated argument during the premiere episode on October 15. Now, it feels as if things are turning optimistic as Abhishek opens up about his feelings for Isha. He broke down emotionally while discussing his breakup with Isha and also made a surprising revelation, expressing his desire to marry her.
ALSO READ: Shah Rukh Khan, Suhana Khan to star together in upcoming action thriller? Know details
Abhishek became emotional while discussing his feelings for Isha during a conversation with Munawar Faruqui. He shared his emotional turmoil, saying, "Right now, I am in a situation where I am trying to ignore her. I talk to other women and am trying to divert my attention. But when I see her, my body starts shivering."
He added, "I keep wondering why we broke up and why destiny brought us back together under the same roof. I suggested, Give ten years to your career and then marry me. I am ready to marry her, as I have strong feelings. You speak to people from Udaariyaan. You will understand how deeply I loved her. I am hurting a lot. I can not bear it."
Abhishek shared, "I am just unable to accept and forget that it is over. I had promised my family that I will stay away from her when I come to Bigg Boss. But I am unable to take her out of my mind."
ALSO READ: Leo: Udhayanidhi Stalin reviews Thalapathy Vijay, Lokesh Kanagaraj's film; shares BIG SPOILER (Read)
Last Updated Oct 19, 2023, 12:11 PM IST