Barroz: Mohanlal starrer 3D fantasy to release on THIS date; read details
Malayalam legendary actor Mohanlal starrer 3D fantasy movie Barroz will hit theatres in March 2024. The movie is the directorial debut of actor Mohanlal and is produced under the banner of Aashirvaad Cinemas.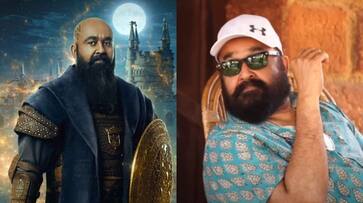 Malayalam legendary actor Mohanlal is gearing up for the release of his upcoming movie 'Barroz'. The actor has shared the release date of the film through his social media posts, stating, " Here's an official announcement to mark your calendars: "Barroz" is coming to cinemas on 28th March 2024! Don't miss out on what's next.
#BarrozOnmarch28th
The fantasy film, which was written by Jijo Punnoose, who is well-known for penning the iconic movie "My Dear Kuttichathan/Chhota Chetan," is based on his novel titled "Barroz: Guardian of D'Gama's Treasure." The movie also features Guru Somasundaram, Cesar Lorente Raton, Ignacio Mateos, and Kallirroi Tziafeta. Additionally, Mohanlal himself plays the lead role of the lead character in the film.
This movie is the directorial debut of actor Mohanlal. The movie is being dubbed in 16 languages, which enables it to deconstruct the language barriers that block the worldwide audience from enjoying the film. The multilingual appeal of the movie can thus be confirmed. 60 countries are on the list for its release. 'Barroz' storyline revolves around a demon of the same name who protects the riches of D Gama by being his key keeper. The story goes on with the protagonist's search for an heir who is well-suitable and worthy of the position. 
The production design is by Santhosh Raman. Santhosh Shivan has given undivided attention to the visual detailing, due to which 'Barroz' will be a perfect theatre experience. T. K. Rajiv has also given his share of work for the directorial department, thereby helping it reach perfection.  Mark Kilian is behind the background score being crafted, and he has been known for his works in 'Eye in the Sky' and 'The Traitor'. As mentioned, the film setting is based in Portugal therefore, adequate Portuguese songs are also blended in the film by Garerio. Lidiyan Nadaswaram's musical contribution also deserves mention. The global production is executed by Aashirvaad Cinemas headed by Ashish Joe Anthony, with the helpful support of Antony Perumbavoor.
Meanwhile, the actor announced his upcoming pan-Indian movie 'Rambaan', helmed by ace director Joshiy on October 29. Meanwhile, the actor is busy with the shooting of his next film, Vrushabha. The movie is directed by Nanda Kishore and also stars Shanaya Kapoor and Zahrah S Khan in major parts. Zahrah S Khan, the daughter of legendary actress Salma Agha, makes her cinematic debut with this film.
Last Updated Nov 5, 2023, 10:27 AM IST