Margot Robbie's 'Barbie' and Jason Statham's 'Meg 2' begin streaming on this OTT platform; know details
Greta Gerwig's directorial 'Barbie' and Meg 2 will be available for rent on Amazon Prime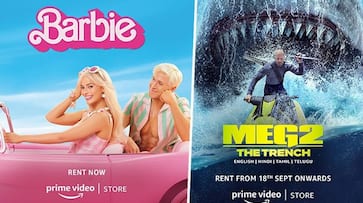 Prime Video is offering a delightful double treat to movie enthusiasts across the country. They are premiering two global blockbusters, "Barbie" and "Meg 2: The Trench," shortly after their theatrical releases. These exciting movies are available for rent on Prime Video at a reasonable price of INR 499 each. This announcement marks an expansion of Prime Video's entertainment marketplace, which allows both Prime members and non-Prime members to enjoy early access to the latest Indian and Hollywood films, as well as a diverse catalog of popular movies from around the world.
 "Barbie" is a captivating story set in the enchanting Barbieland, featuring the iconic Barbie, portrayed by Margot Robbie. When Barbie's seemingly perfect life takes an unexpected turn, she finds herself grappling with an existential crisis, contemplating the mysteries of life and death. To discover her true purpose, she embarks on a journey to the human world, accompanied by Ken, portrayed by Ryan Gosling—a somewhat lover figure in her life. Directed by Greta Gerwig and co-written with Noah Baumbach, "Barbie" achieved instant cultural acclaim upon its release and emerged as one of the year's biggest box-office successes. "Barbie" is now available for rental on Prime Video.
A sequel to the 2018 hit "The Meg," "Meg 2: The Trench" continues the thrilling saga of Jonas Taylor, played by the charismatic Jason Statham. Taylor, now involved in combating environmental crimes, joins forces with Mana One to explore the depths of the Mariana Trench, where the formidable Megalodon was first discovered. However, their mission faces a grave threat from a hostile mining operation, leading to a high-stakes battle for survival. A group of dedicated scientists must outwit and outswim the monstrous Megalodons to survive this perilous ordeal. Directed by the talented Ben Wheatley and based on the 1999 novel "The Trench" by Steve Alten, "Meg 2: The Trench" achieved global box-office success upon its release. Viewers can rent this action-packed adventure on Prime Video starting September 18.
Prime Video's Entertainment Offerings: As the preferred entertainment destination for all, Prime Video boasts an extensive collection of movies and TV shows from both India and around the world. Furthermore, its video entertainment marketplace enhances the choices and options available to customers. Through Prime Video Channels, Prime members can opt for add-on subscriptions to a growing array of streaming services, enjoying their content seamlessly within Prime Video. Movie rentals on Prime Video are an extension of this entertainment marketplace, offering Prime members and non-members alike an at-home, cinema-like experience with early access to the latest and most popular Indian and Hollywood films, including titles beyond those included in the Prime subscription.
Accessing Prime Video's Rental Destination: Customers can easily access the rental destination by navigating to the "STORE" tab on primevideo.com or the Prime Video app, available on Android smartphones, smart-TVs, connected STBs, and the Fire TV Stick. Once initiated, viewers have a 48-hour window to complete the film, and they can start watching it within 30 days of the transaction date.
ALSO READ: Kareena Kapoor opens up on Taimur's name controversy; was baffled at the media trial
Prime Video continues to redefine the streaming experience by bringing the latest and greatest entertainment directly to your screen, making it the ultimate destination for movie lovers across India. Don't miss the chance to rent and enjoy "Barbie" and "Meg 2: The Trench" along with an extensive collection of movies, all at your fingertips on Prime Video. 
Last Updated Sep 12, 2023, 12:35 PM IST