Rishabh Shetty's 'Kantara' prequel to be made on budget more than its first part
Kantara 2, the much-anticipated prequel to the successful Kannada film, is generating excitement with its ambitious budget of 150 crores and lead actor Rishabh Shetty's physical transformation. The story is set in 400 AD, and shooting is scheduled in coastal locations.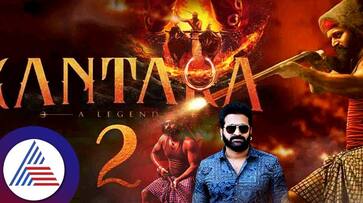 Rishabh Shetty's Kantara 2, the highly anticipated film of the year, has created quite a buzz among fans. Following the immense success of the first part of Kantara, actor-director Rishabh Shetty is determined to meet the audience's expectations with the prequel. The film's team has now shared some intriguing news about Kantara 2, particularly regarding its budget, which might come as a shock.
Kantara, initially a Kannada movie, exceeded regional boundaries and achieved widespread acclaim. It raked in 362 crores in India and a staggering 398 crores worldwide. What set Kantara apart was its remarkable success despite being made on a modest budget of only 16 crore rupees.

Kantara 2: Rishab Shetty to start shooting in November; Here's when film is set to hit theatres
However, Kantara 2 is expected to be different from the first part. With heightened expectations due to the predecessor's triumph, the film's team is leaving no stone unturned. Kantara 2 is reportedly being crafted on a grand scale, with an estimated budget of 150 crore rupees. The decision to allocate such a substantial budget hints at the makers' ambition to deliver an even more spectacular cinematic experience.

Kantara Prequel: Rishab Shetty takes on new challenges; explores hometown for inspiration, check out DETAILS
In addition to the budgetary preparations, Rishabh Shetty himself is undergoing a significant transformation in his role in Kantara Part 2. He is committed to shedding around 11 kilograms of body weight to achieve a slimmer appearance. The film's story is set in 400 AD, adding to the intrigue surrounding Kantara 2.
Given that the narrative of Kantara unfolds against a coastal backdrop, the shooting is scheduled to take place in such locations. Rishabh Shetty, along with the film's writers Anirudh Mahesh, Shanil Guru, and the team, has reportedly set off to Mangaluru to work on the story and screenplay. Although the shooting is commencing, there is no official information yet regarding the film's release date.
Last Updated Sep 16, 2023, 11:23 AM IST