Aquaman 2 Teaser: Witness Jason Momoa's fierce avatar in the adventurous-action film
Aquaman 2 teaser is out now. It has been confirmed that Jason Momoa will reprise the underwater world with Amber Heard. Aquaman 2 is a much-awaited sequel to the 2017 hit film Aquaman. The teaser brings a blend of action, drama, romance, fantasy and adventure.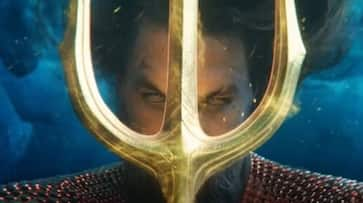 There finally is an official update on Jason Momoa-starrer Aquaman 2. It is bound to get DC fans excited. On Monday (IST), DC dropped the new teaser of Aquaman 2 and revealed that the film will be titled Aquaman and the Lost Kingdom. If that was not enough to leave everyone talking, the production house said that the Aquaman and the Lost Kingdom trailer would be released later this week, on September 14. The teaser offered a glimpse into the underwater superheroes world. It also confirmed that Amber Heard will be reprising her role as Mera.
ALSO READ: Jonas brothers' concert: Preity Zinta, Priyanka Chopra enjoy a 'fun night' at Yankee Stadium
The teaser reintroduces DC fans to Arthur Curry, who has new troubles to face. We see him rule and protect the waters. However, things take a dark turn when his family on land gets dragged into his fights with the underwater demons. The teaser brings back Black Manta. This time around. He is beefed up and ready to kill Aquaman. There are snapshots of his house on land set on fire by enemies underwater. Even fight sequences promise an epic experience at the cinemas.
Sharing the teaser on YouTube, DC confirmed that Amber Heard reprises her role as Mera. The official description of the film reads: "Having failed to defeat Aquaman the first time, Black Manta, still driven by the need to avenge the death of his father. He will stop at nothing to take Aquaman down once and for all. This time, the Black Manta is more formidable than ever, wielding the power of the mythic Black Trident, which unleashes an ancient and stronger force. To defeat him, Aquaman will turn to his imprisoned brother Orm, the former King of Atlantis, to forge an unlikely alliance. Together, they must set aside their differences to protect their kingdom and save Aquaman's family and the world from irreversible destruction." Director James Wan, much-awaited fantasy movie Aquaman and the Lost Kingdom is set to release on December 20.
ALSO READ: Prabhas is all set to play Lord Shiva in Vishnu Manchu's next Kannappa; read details
Last Updated Sep 11, 2023, 12:48 PM IST