Animal theme song 'Arjan Vailly' OUT: Ranbir Kapoor starrer unleashes intense vibes with pulse pounding anthem
Animal, Ranbir Kapoor and Sandeep Reddy Vanga's Pan India film, amps up anticipation with the release of the theme song "Arjan Vailly." Drawing from Punjabi folk traditions, the track, composed by Manan Bharadwaj, complements intense visuals, promising a gripping and violent crime drama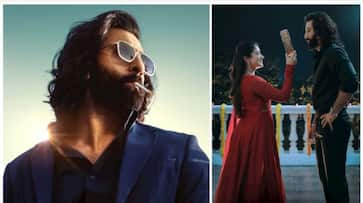 Ranbir Kapoor and Sandeep Reddy Vanga's highly anticipated Pan India film, "Animal," continues to build anticipation with each promotional release. The pre-teaser and teaser showcased intense action sequences, while the recently unveiled theme song, "Arjan Vailly," adds another layer to the multifaceted narrative.
The upbeat track, composed by Manan Bharadwaj, complements the film's high-energy vibe. Bhupinder Babbal's impactful lyrics and vocals contribute to the song's strength, enhancing the gripping visuals that feature Ranbir Kapoor wielding an axe and engaging in intense confrontations.
Derived from a Punjabi folk song featured in the pre-teaser, "Arjan Vailly" draws inspiration from the traditional music style of Dhadi Vaar, known for narrating folk stories from Punjab. The song's title holds significance, with "Arjan" being a name and "Vailly" referring to someone with an anti-social nature.
ALSO READ: Shruti Haasan opens up about relationship, marriage plans with Santanu Hazarika; Read more
Much like the preceding promotional materials, the song hints at a riveting crime drama, promising audiences a compelling and violent cinematic experience. As the excitement continues to build around "Animal," fans eagerly anticipate the film's release to witness the unfolding of this intense narrative on the big screen.
ALSO READ: The Crown season 6 Part 1: Elizabeth Debicki as Princess Diana takes away cake from the Late Queen Elizabeth
Last Updated Nov 18, 2023, 5:26 PM IST