Shruti Haasan opens up about relationship, marriage plans with Santanu Hazarika; Read more
Shruti Haasan dispels marriage rumors with boyfriend Santanu Hazarika, stating it scares her. Emphasizes happiness in their supportive relationship and collaborative work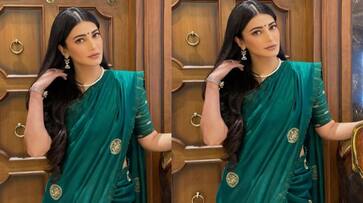 Shruti Haasan, a prominent figure in the entertainment industry, recently addressed speculation surrounding her marriage to boyfriend Santanu Hazarika in an interview with Hindustan Times. The actress, known for her active presence on social media, often shares glimpses of her personal and professional life with her fans.
Contrary to rumors, Shruti clarified that there are currently no plans for marriage, expressing her reservations about the institution. "The word marriage scares me a lot. There is so much to it that I really don't want to think about it. I am happy being with him, doing good work in collaboration with him and having a great time together. Isn't it better than most marriages?" she remarked.
Highlighting the strength of their relationship, Shruti emphasized the support they provide each other during challenging times. "We are there for each other and support each other during hard times. It feels better when you have someone while you struggle. It's better than dealing with everything alone. I don't think there is anything better than what we share," she shared.
ALSO READ: Salaar: Cyber police detain culprits behind unauthorized content spread of Prabhas starrer thriller; Read more
The actress also shed light on their collaborative work, particularly mentioning their joint project, "Monster Machine." Despite differences in their personalities, with Shruti being energetic and anxious while Santanu remains calm and relaxed, they find a balance that complements each other. "I am always on my toes… always anxious and want to get things done right then right there. But he is very calm and relaxed that way. I am always panicking, and he is always calming me down. So we kind of balance each other out," she explained.
Santanu Hazarika, a renowned doodle and multidisciplinary visual artist, has collaborated with various celebrities, including Raftaar, Divine, and Ritviz.
Shruti Haasan, who recently appeared in the action-drama film "Waltair Veerayya" alongside Chiranjeevi and Ravi Teja, is set to star in the upcoming Telugu-language action thriller "Salaar." Directed by Prashanth Neel, the film features Prabhas in the titular role and is a spin-off of the KGF film series, expanding the KGF universe.
ALSO READ: The Crown season 6 Part 1: Elizabeth Debicki as Princess Diana takes away cake from the Late Queen Elizabeth
Last Updated Nov 18, 2023, 3:25 PM IST