From Gilli to Bairavaa: All about the Vijay mania
Deepavali surprise in the form of a teaser release
Official twitter handle of the film Bairavaa has 26k followers in a matter of 8 months
What's it about Vijay that makes him such a sensation in Kollywood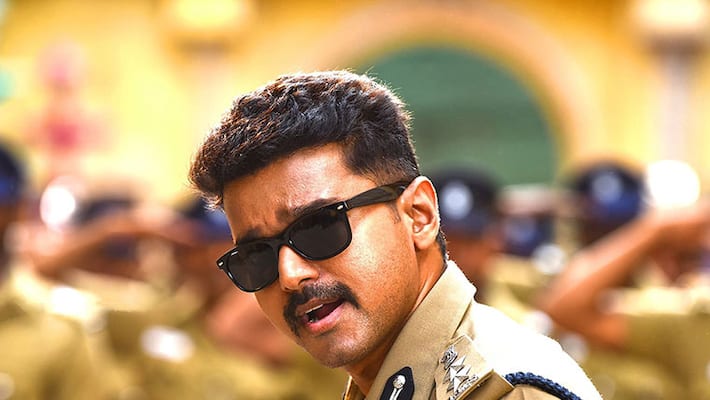 The official twitter handle of the film Bairavaa has 26k followers in a matter of eight months. The whole of Tamil Nadu is waiting with bated breath for the clock to strike 12 on the night of October 28th.
The teaser of actor Vijay's 60th film will be screened, making it a memorable Deepavali release for scores of fans out there. What is it about this hero that makes him quite a sensation? "It's his boy-next-door look," said Raviraj, secretary of Vijay's fan association.
Well, another factor that has helped the actor remain a 'Gilli' (in Tamil slang, means 'winner'), is his ability to distance himself from unwanted controversies. "The man on screen is so different from the man off screen," said Raviraj,
"He is a man of few words, with no airs, and extremely humble." And this is one of the characteristic traits that is adored by many directors as well. "It's his humility that is striking. With so many blockbusters to his credit, Vijay will walk in with an air of such simplicity," said Bharathan, the man behind Vijay 60 – Bairavaa.
Every movie of Vijay has a fair share of music, dance and punch dialogues. In fact, Bharathan thought of a dialogue, which he realised, can best be delivered by Vijay. Thus was born the idea that transformed into Bairavaa. "I would like that dialogue to remain a suspense," the director said. His journey with Vijay started from the film Gilli where Bharathan scripted the dialogues. After Azhagiya Tamizh Magan, Bharathan is the director of a Vijay film for the second time now.
Let's admit it. In the last 20 years, Vijay definitely has a massive fan following. Like a Rajinikant or a Salman Khan, he is loved by all age groups and his following reaches the rural sections too. "The fan base that he has gathered happened on its own. It was not bought. That's ilayathalapathy for you," said Raviraj.
While Rajini is fondly known as 'Thalaivar' (meaning leader), Vijay is known as 'Ilayathalapathy' (meaning young commander-in-chief), almost symbolising Vijay as the heir to 'Superstar-dom'. "While there are similar ingredients like stunts and punch dialogues, both of them have distinctly different traits that stand out," said Bharathan.
One of Vijay's dialogues that will remain etched in Kollywood's history is: "Na oru dharava mudivu pannita, yen pecha naane keka maaten" (Once I've decided, I won't even listen to my own disagreement).
"After MGR, it was Rajini. Now it's Vijay. Similarly, after Sivaji Ganesan, it's Kamal Haasan. And then Vikram," said Raviraj.
Among all these actors, there is a 'Thala' (short form for 'leader') who is the only strong competitor – actor Ajith. One can't help but remember the dialogue of Ajith in the film Billa 2 - "Ennoda nanbana irukka thagudhi venam. Aana, ennoda ethiri ya irukka thagudhi venum" (You don't need to be qualified to be my friend, but you need to be qualified to be my enemy).
Fans of both Ajith and Vijay make their animosity public in both – the real as well as the virtual world. "Ajith and Vijay are great friends. They stand by each other. Fans of both need to understand this," said Raviraj. Bharathan chose to refrain from commenting.
Ilayathapathy's strength is his dance, no doubt. "His dance in 'Aal thota Bhoopathi' song from the film Youth is unparalleled," said Raviraj. "But Bairavaa, which is set to release during Pongal next year will have a song based on a festival. And that is going to be unique," said Bharathan.
With Pokkiri earning ₹700 million, Vijay's fans are praying Bairavaa would be another 'Pokkiri Pongal'. Santhosh Narayan of 'Kabali' fame is the music director of this film. And this time, it's not 'Neruppu Da' (meaning fire), but 'Pattaiya Kalappu Da' (meaning 'Just go for it and have a blast'). No wonder Bhairavaa fans are waiting to have a blast this Deepavali with the surprise teaser.
Last Updated Mar 31, 2018, 6:44 PM IST