Akkineni Nageswara Rao's celebration: Mahesh Babu, Ram Charan attend ANR'S 100th birthday celebration
The Akkineni family celebrated the 100th birth anniversary of the legendary actor Akkineni Nageswara Rao (ANR) with a grand celebration in Hyderabad. The festivities commenced with the unveiling of a Panchaloha statue of ANR at Annapurna Studios,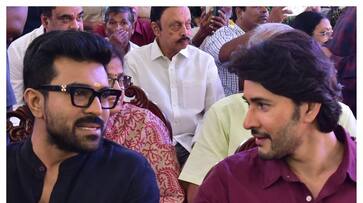 On September 20th,T and the event was graced by the presence of notable figures including Mahesh Babu, Ram Charan, and the former Vice President of India, M. Venkaiah Naidu.
ANR, fondly remembered as one of the indomitable talents who significantly contributed to the Telugu film industry's success, continues to be cherished for his enduring cinematic classics.
This centenary milestone of ANR's birth on September 20th was marked by the unveiling of his statue at Annapurna Studios, with plans for a series of events throughout the year to honor his remarkable life and enduring legacy. The esteemed former Vice President of India, M. Venkaiah Naidu, had the honour of unveiling the statue on this momentous occasion.
It was a heartwarming moment when Mahesh Babu and Ram Charan warmly greeted each other at the birthday celebrations of the legendary Akkineni Nageswara Rao Garu on September 20. Fans of both these iconic stars were overjoyed to witness this heartening interaction, and a photograph capturing their handshake swiftly became a social media sensation.
The sight of these prominent stars coming together and demonstrating their mutual respect was indeed a source of immense delight. While the entire Tollywood industry undoubtedly cherished this significant event, this particular moment added an extra layer of specialness that resonated with everyone involved.
Chiranjeevi shared a pictures with ANR and wrote a special note on the legend.
He posted by saying that, "On the occasion of the centenary celebrations of Shri Akkineni Nageswara Rao, I pay my respects and respects to the great actor. He is a legendary actor not only in Telugu cinema but also in the history of Indian cinema. His acting skills have left an indelible impression on the minds of the Telugu audience through the hundreds of films he has acted in. As long as Telugu cinema lives, Sri Akkineni Nageswara Rao will remain forever in the minds of the Telugu audience. To everyone in the Sri Akkineni family on the centenary of that great man, To my brother @iamnagarjuna, to the crores of fans of Nageswara Rao, my heartiest greetings to all movie lovers!! #ANRLivesOn #ANRCentenary
Last Updated Sep 20, 2023, 3:28 PM IST