Aishwarya Arjun, Umapathy Ramaiah get engaged in Chennai; receive heartfelt wishes from netizens
Famous actor Arjun Sarja's daughter, Aishwarya Arjun, and Umapathy Ramaiah get engaged in a lavish Chennai ceremony.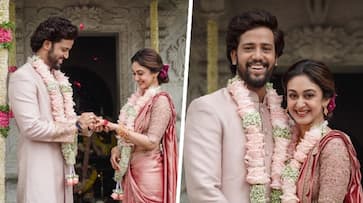 Aishwarya Arjun, who is the daughter of famous action star Arjun Sarja, recently got engaged to her longtime boyfriend, Umapathy Ramaiah. Their engagement ceremony took place on October 27 in Chennai and was a big, fancy event.
Aishwarya and Umapathy had been in love for a while before they officially got engaged. People in the town were already talking about their romantic relationship. What's interesting is that their families are very close. Aishwarya's dad, Arjun Sarja, and Umapathy's dad, Thambi Ramaiah, are great friends and have acted in many movies together.
Umapathy is known for his work in Tamil movies and has also been on reality TV shows. The exact date of their wedding is not confirmed yet, but it might happen next year. When their engagement photos and videos were shared on social media, many people congratulated them and sent good wishes.
Umapathy was a contestant on a Tamil reality show called Survivor Tamil, which was hosted by Aishwarya's father, Arjun. It's said that Arjun played a big role in bringing Aishwarya and Umapathy together. They became close very quickly, and their relationship developed fast.
Arjun Sarja got married to Niveditha Arjun, who was an actress, in 1988. They have two daughters, Aishwarya and Anjana. Aishwarya made her acting debut in 2013 and has worked in Tamil, Kannada, and Telugu films.
Umapathy began his acting career in 2017 with a comedy film. He later acted in a comedy drama and a romantic comedy. He also participated in the Survivor Tamil show. Now, he is preparing to direct a movie called "Rajakili," which is written by his father, Thambi Ramaiah, who also acts in the film with Samuthirakani.
Meanwhile, Arjun Sarja is still active in the film industry. He recently appeared in a Tamil movie with Thalapathy Vijay and is working on other projects in both Tamil and Malayalam films.
Last Updated Oct 28, 2023, 1:50 PM IST