Aaradhya Bachchan praises mom Aishwarya Rai: Listen to her 1st public speech ever saying 'You're incredible'
In honour of her mother Aishwarya Rai's 50th birthday, Aaradhya Bachchan gave a speech for the first time in public. Right now, the video is going viral.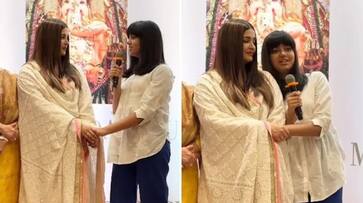 On Wednesday, November 1, Aishwarya Rai Bachchan celebrated her fiftieth birthday. The Bollywood actress, along with her mother Vrinda Rai and daughter, Aaradhya Bachchan, attended a special function on that memorable day that was held for the benefit of cancer patients. To the astonishment of everybody, Aaradhya seized the mike and made her first public address—a powerful speech. She gave her mother a lot of praise.
Everywhere Aishwarya Rai goes, her daughter Aaradhya frequently goes along. Along with her mother Vrinda Rai and daughter Aaradhya Bachchan, Aishwarya celebrated her fiftieth birthday on November 1st by attending a special gathering arranged for a charitable purpose. Aishwarya looked amazing in a white chikankari salwar suit. For the first time, the actor's daughter—who has always avoided the spotlight—made a speech in front of an audience.
Also Read: Shah Rukh Khan turns 58: Suhana Khan wishes father with heartfelt post [PICTURES]
"I feel that what my darling, my life, my mom is doing is truly important and truly wonderful. It's truly enriching and fulfilling. It's helping the world, it's helping everyone around us, it's helping people and I just want to say, what you are doing is truly incredible," According to Aaradhya's speech. Aishwarya, meanwhile, seems delightfully taken aback. As the crowd applauded, Aaradhya, who had chosen to wear a white blouse and blue trousers, likewise bent down and gave a bow.
Many photos and videos from the ceremony showing Aishwarya Rai cutting her birthday cake went viral on social media.
Also Read: Aishwarya Rai, Aaradhya Bachchan grace event as the actress celebrates her birthday
Aishwarya's most recent film appearance was in the historical action drama "Ponniyin Selvan: II." Aaradhya, meantime, will be 12 on November 16. 2011 saw the birth of this child, Aishwarya Rai and Abhishek.
Last Updated Nov 2, 2023, 10:19 AM IST