Aamir Khan's son Junaid Khan to star with Sai Pallavi? Read details
While Aamir Khan's son Junaid Khan's debut film is yet to be released, sources indicate that he has already inked a second movie with South actress Sai Pallavi.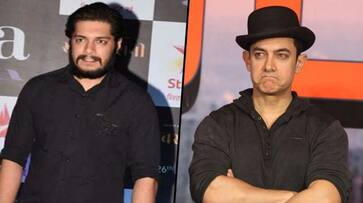 Junaid Khan, Aamir Khan's son, is already working on his next project with south actress Sai Pallavi, who will make his acting debut in a YRF film. Yes, you read that correctly. Fans may see Pallavi in a film alongside Junaid, as the two have been cast in a love story. Sunil Pandey will direct it.
"The preparation of Junaid's untitled next has begun," according to a news agency. According to reports, Sai Pallavi will play a key role in the film. Junaid's next project will be his YRF debut feature. The film, directed by Sunil Pandey, is billed as a love story." 
Meanwhile, Junaid Khan made his stage debut in Quasar Thakore Padamsee's adaption of Bertolt Brecht's satire 'Mother Courage and Her Children,' a stinging satire on the folly of war. Furthermore, the actor has extensive stage experience. 
Junaid received two years of theatrical training at the American Academy of Dramatic Arts in Los Angeles and has honed his acting talents via theatre for over three years. Junaid also worked as an assistant director on PK.
Aamir Khan's reaction to Junaid's debut
Aamir already discussed Junaid's Bollywood debut in an interview. "It is up to him (about making his film debut)," he stated. He should be in charge of his own life and decisions. I'm not going to take it for him. I've left everything to him. He clearly has an interest in the creative world and in filmmaking. He is on his way; he has studied theatre. He is more interested in theatre than cinema. I'm letting him leave and forge his own path. That is exactly as it should be. He is really intelligent''.
Aamir Khan further stated that if Junaid wants to work in Bollywood as an actor, he must go through the correct channels and apply for jobs."Only if I feel I have something and if he (Junaid) fits in, will I cast him... He will have to go through a casting process." "He hasn't tried out for anything," Aamir said. 
Last Updated Sep 14, 2023, 10:27 AM IST