69th National Film Awards: Allu Arjun, Alia Bhatt, Kriti Sanon's photo is a glimpse of potential collaboration
Allu Arjun, Kriti Sanon, and Alia Bhatt, first-time National Award winners, celebrated at the 69th National Film Awards. A viral photo shows their radiant smiles. Fans hope for a future collaboration. The event was a star-studded celebration of Indian cinema's finest talents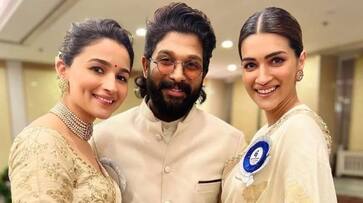 In a heartwarming moment at the 69th National Film Awards ceremony, first-time winners Allu Arjun, Kriti Sanon, and Alia Bhatt were captured together in a photograph that's worth celebrating. These three talented actors were seen beaming with radiant smiles on their faces.
For those who might not be aware, Allu Arjun clinched the prestigious National Award for his powerful performance as Pushpa Raj in Sukumar's film "Pushpa: The Rise." Meanwhile, Alia Bhatt received the Best Actress award for her remarkable portrayal in Sanjay Leela Bhansali's "Gangubai Kathiawadi," and Kriti Sanon was honored with the National Film Award for her moving performance in "Mimi."
The 69th National Film Awards were indeed a star-studded affair, bringing together the biggest stars from various film industries to celebrate Indian cinema. A particular photograph from the awards ceremony has gone viral on social media, and it's easy to see why. The picture features the Best Actor and Best Actress winners of the National awards, and Allu Arjun, Alia Bhatt, and Kriti Sanon are all smiles as they pose together.
One of the most delightful moments from the event was when Kriti Sanon and Allu Arjun, both award recipients, took a selfie together. What's even more exciting is that they recreated the iconic Pushpa Raj pose from the film "Pushpa." This candid moment has left fans buzzing with excitement. Allu Arjun and Kriti Sanon were seated together at the awards ceremony, and the charming selfie of these talented actors has melted the hearts of netizens.
Many fans are now hoping for a possible collaboration between these actors in the future. Let's hope their fans' wishes come true, and we get to see them working together on a project.
To sum it up, the glimpses from the 69th National Film Awards ceremony have been making waves on the internet. In a priceless photograph, the award winners gathered to pose for the camera, showcasing their well-deserved pride and achievements. Mythri Movie Makers shared this memorable moment, capturing Allu Arjun, Shreya Ghoshal, Kriti Sanon, Devi Sri Prasad, and others in the frame. The caption read, "That's what you call an accomplished frame: Our pride - the winners from the National Award presentation ceremony."
Last Updated Oct 18, 2023, 8:33 AM IST