'800' Trailer : Cricket Legend Sachin Tendulkar unveils biopic on Muthiah Muralidaran
Iconic Indian cricketer Sachin Tendulkar and former Sri Lankan all-rounder Sanath Jayasuriya jointly unveiled the trailer of '800'. Vijay Sethupathi was replaced with Madhur Mittal in '800'. The film is directed by MS Sripathi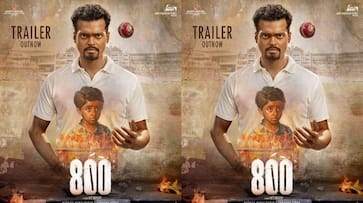 The trailer of Sri Lankan spin legend Muthiah Muralidaran's '800' was released on Tuesday. Sri Lankan cricket legend Muthiah Muralidaran expressed enthusiasm as the official trailer for his biopic film '800'.  In Mumbai, iconic Indian cricketer Sachin Tendulkar and former Sri Lankan all-rounder Sanath Jayasuriya jointly unveiled the trailer. The trailer hints that the film will depict Muthiah's childhood, how he became a legend in cricket and the difficulties he faced. 
The trailer highlights the film's exploration of Muthiah Muralidaran's lesser-known life journey. It commences with glimpses of Sri Lanka's 1970s era, marked by the persecution of minority Tamils, depicting the challenges faced by the community during that period. Additionally, the trailer features a young man in a white cricket jersey kneeling before armed military personnel, accompanied by a voiceover stating, 'For someone who comes from a background of migrant laborers, gaining recognition as a citizen is an uphill battle.' The trailer concludes with the individual proudly identifying as a 'cricketer'.
Madhur Mittal, who is famous for 'Slum Dog Millionaire', is playing the role of Muttiah in the film. Vijay Sethupathi was the first to play Muttiah in '800'. The character poster was also released and received much attention. But after getting into controversies, the actor withdrew from this film. The protesters questioned the identity of Muthiah Muralidaran, a Sri Lankan of Tamil origin. The protestors also said that Tamils ​​should remember the conflict-ridden history they had to face in Sri Lanka. Later, Muttiah himself asked Vijay Sethupathi to withdraw from the film. 
Directed by MS Sripathi, the film will be released in Tamil, Telugu and Hindi languages. Sripathi himself has written the screenplay for the film. Naren, Nasser, Vela Ramamurthy, Rithvika, Hari Krishnan and others are the main stars in the film
The movie is produced by Movie Train Motion Picture and Vivek Rangachari. Music Composed by Gibran, Cinematography by RD Rajashekhar ISC, Editing by Praveen KL. The story is written by MS Sreepathi & Shehan Karunathilaka, Production Designer as Videsh, Costume Designers asPoorthi Praveen & Vipin PR. Line Producer by Kandan Picchumani ,VFX Supervisor by Jitendra Vijayakumar are the crew members of the film. 
Last Updated Sep 6, 2023, 10:47 AM IST