Have been judged by people who hardly know me, says Mumbai's Prithvi Shaw after epic 379 against Assam
Mumbai's Prithvi Shaw scored a triple hundred against Assam in the Ranji Trophy on Wednesday in Guwahati; makes second-highest score of all time in the tournament.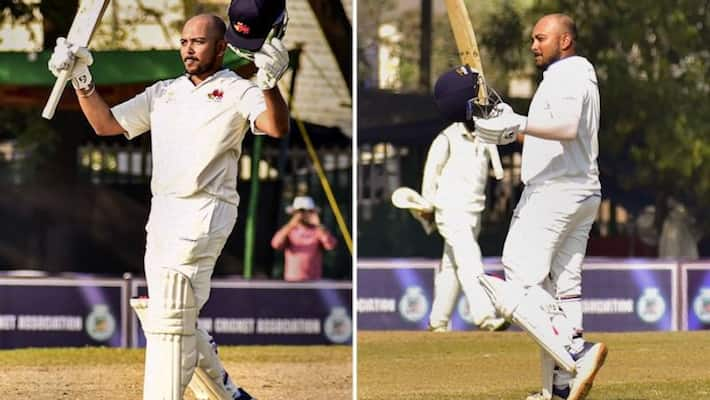 "Hope you are watching everything Sai Baba," Prithvi Shaw wrote on his Instagram account a few months back. A young man who had been forced into a corner was pleading for divine assistance. These fair-weather pals weren't there for him when he most needed them, and he was being evaluated by people who didn't even know him.
"I think that post was just about if he (Sai Baba) is watching or not. That wasn't for anyone. It was a deeply personal thing," Mumbai batter Prithvi's voice was unusually calm as he spoke to PTI after his marathon 379 off 383 balls in a Ranji Trophy match against Assam in Guwahati. 
Shaw has the second-highest individual score in the nearly 90-year history of Indian first-class cricket, trailing only Bhausaheb Nimbalkar's 443 for Maharashtra against Kathiawar in Pune in 1948–1949.
Also read: Ishan Kishan's time will come, says former Indian skipper Sourav Ganguly
Prithvi has scored runs in a variety of formats, and given the abundance of talent in Indian cricket or just plain bad luck, he ought to have made the team. But in Indian cricket, stereotypes spread quickly and can make or break careers.
"Sometimes, you do get frustrated," said the U-19 World Cup-winning India captain. You know you are doing your things right. You know you are doing your processes right, you are honest with yourself, disciplined with your career on and off the field. But sometimes people do talk differently. People who don't even know you judge you," the hurt was palpable in his voice. 
Success makes one smarter, but difficult experiences tend to accelerate your maturation. The 23-year-old is now aware of and able to recognise every one of his well-wishers due to what has happened.
"People who are not with me when I am not doing well, I don't really care about them. Just like to ignore them. That's the best policy," said the second man after Sachin Tendulkar to hit a Test hundred in his teens. 
The trolls on social media or the adverse comments don't bother him anymore. "I use social media, but all my posts are done by my manager. He handles my stories and posts. I don't really see what's going on. I try and shut myself from all this stuff and if I am doing things right and my processes right, this kind of day will come again and again." 
Also read: 'Consistency is the problem in KL Rahul's case' - Mohammed Azharuddin
I will just do my work and not think about the India call-up
The ideal situation would be for Prithvi to be given a national recall, but with Rohit Sharma, KL Rahul, Shubman Gill, and Abhimanyu Easwaran ahead of him in the Test rankings, it is unclear how that will happen.
"I am not even thinking if someone is going to call me in the Indian team. I am just trying to do my things right which I can and not to think too far ahead. I am a person who loves to live one day at a time. I have to make my today right. I am playing for Mumbai and the goal is to win Ranji Trophy," he said. 
He has received thousands of congratulations on all of his accounts, including some personal ones. It is challenging to decide.
"Lot of people praised and expectations are high. I hope I have made them happy." 
I wasn't out and could have made 400, Prithvi laments
In first-class cricket, a score of 400 doesn't occur frequently. However, if he hadn't already been ruled leg before Riyan Parag delivered, he might have reached 400 that day.
"It feels really nice. I could have made that 400. I think I was batting really well but it was just matter of time as big runs weren't coming. I thought, I should give myself more time out there in the middle, display patience and the track needed that," Prithvi explained.
"The pitch did offer seam movement at the beginning and then as the overs progressed, it started keeping low." 
Also read: 'Was in denial, frustration was creeping in' - Virat Kohli on his prolonged grey patch
He was indebted to skipper Ajinkya Rahane (191) for his guidance during their 401-run third-wicket stand. "It feels really nice to bat with a player of his (Rahane's) stature. Someone with so much of international experience. His mere presence around this Mumbai side lifts us up. I always try and learn when an international player comes and plays with us," he said. 
Playing close to the body has been his major objective regarding technical adjustments to offset the seam and swing movement.
"Just trying to play close to my body. Red ball in conditions like these seams around. I am the kind of player who loves to keep the scoreboard ticking and at times you have to put your head down and bat according to conditions. These small small things made a huge difference," he signed off.
(With inputs from PTI)
Last Updated Jan 11, 2023, 8:14 PM IST