ODI World Cup 2023: Wasim Akram expresses fear for other teams, says scared of 'Nothing to Lose' England side
Pakistan legend Wasim Akram has expressed his fear for other teams as England could now resort to a fearless form of play. The England cricket team has nothing to lose as they are on the verge of crashing out from the ODI World Cup 2023.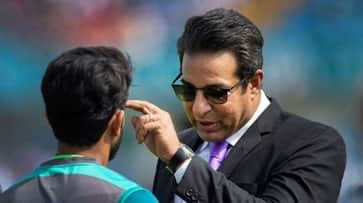 Former Pakistan fast bowler Wasim Akram has raised concern on the part of other teams in the ODI World Cup 2023. England and Bangladesh are already out of this World Cup after a series of abysmal performances. Both sides are sitting on the last two positions of the points table with just two points in their banks. 
Wasim Akram believes that the England cricket team has nothing to lose after crashing out of the ODI World Cup 2023. Though, their crashing out is not official yet but it is now impossible for them to finish in the top four. England has played underwhelming cricket throughout the World Cup.
Also Read: ODI World Cup 2023: England players forced to use inhalers as air pollution reaches alarming levels
Their body language has been low as their batters have failed to adapt to the Indian conditions. England has nothing to lose now and they are likely to play fearless cricket without a rigid thought process. In such a scenario, they could spoil the party of other teams.
Wasim Akram said, "I'm scared of England because they are out. They are going to play fearless cricket. They have nothing to lose. They will be aggressive and will intend to spoil someone's party.
On Pakistan's performance, he said, "They (Pakistan) can only do one thing. They just have to win their games and then hope and pray that other teams provide favorable results. Because those things aren't in your control. If New Zealand loses by a big margin, again, that's not in Pakistan's control. They should focus on their cricket. The next two games, against big teams."
The men in green broke the streak of losses after registering a win against Bangladesh. They are now on 6 points in 7 games and are not completely out of the semi-final race. Pakistan's destiny is not in its hands as they will depend on other teams' results for their path of qualification.
Last Updated Nov 2, 2023, 8:01 PM IST