ODI World Cup 2023: Shreyas Iyer vents his anger against critics, credits Rahul Dravid and Rohit for success
Indian batter Shreyas Iyer has hit back at his critics after a wonderful couple of performances in the ODI World Cup 2023. He expressed his unhappiness over the people who wrote him off quickly.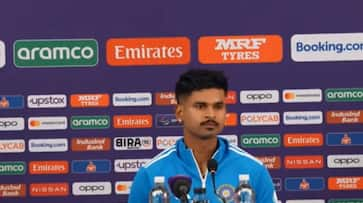 Indian batter Shreyas Iyer peaked at the right time in this ODI World Cup 2023 showcasing firepower knocks in the recent matches. However, the start for Shreyas Iyer in the tournament was far from ideal as the Indian batter relentlessly struggled against short balls.  
Opposition bowlers came up with a designated plan against Shreyas Iyer and he kept falling against short balls. With the poor form, voices grew over the axing of Shreyas Iyer and the inclusion of Ishan Kishan or Surya Kumar Yadav at the reverent number four position in the Indian batting lineup.
Also Read: India vs Australia: IAF's Suryakiran team rehearses for air show ahead of WC final in Ahmedabad (WATCH)
Shreyas Iyer didn't face the axe as the Indian top order constantly outperformed the rest of the batters. The Mumbai-born's time finally came in the recent ODI World Cup 2023 matches as he struck back-to-back centuries. The Indian batter played a crucial whirlwind knock against New Zealand on Wednesday which became the difference maker.
Shreyas Iyer said, "I didn't perform good in 1-2 matches at the start of the World Cup. I was getting the starts but wasn't able to convert them into big ones. But if you look at it (the stats), I was not out against Afghanistan and Pakistan, and then I had two bad innings. Then, people started saying that he has a problem. Inside, I was very angry.
I was not showing it but I knew my time would come and then I'd prove myself. And it has come now, at the right time. It's pivotal, coming from the captain and coach. I didn't have a great start to the World Cup. They told me not to worry about the outside noise, we are backing you, so you just got to go out there and express yourself."
Last Updated Nov 17, 2023, 5:04 PM IST