ODI World Cup 2023: Indian head coach Rahul Dravid heaps praise on Ravindra Jadeja, backs argument with data
Indian Head Coach Rahul Dravid has heaped praise on all-rounder Ravindra Jadeja. The former Indian cricketer went on to back his argument with data and stats as well showcasing the importance of the player.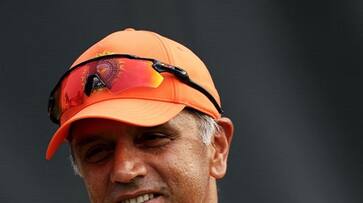 Indian Head coach Rahul Dravid has talked about Ravindra Jadeja's influence on the Indian cricket team and has also backed up his argument with data and stats. Ravindra Jadeja has been underrated so far as the limelight has been only on a few Indian stars like Rohit Sharma, Virat Kohli, and Jasprit Bumrah. 
Rahul Dravid said, "It's been exceptional. I think, you know, Jadeja, someone, if you look at the numbers, we look at stats, we look at data, we look at it quite a lot. I mean, he has been exceptional in this tournament. Because of how good our seamers have been and how fantastic it has been to watch them upfront, the performances of people like Jaddu (Jadeja) and Kuldeep (Yadav) have probably gone slightly unnoticed. 
Sometimes even having to bowl with a slightly wetter ball, because the ball has been slightly wet. Just the kind of control that he's given us through the middle, the way the control he's given Rohit has been sensational. And just the areas he's bowled as well.
I think every metric point tells us that he's up there with anyone in this tournament in terms of just the areas he's been able to hit, and the speeds he's been able to bowl at. And there's a lot of good conversations around the group in our bowlers' meetings with him."
The Indian Head coach has also been underrated throughout the tournament. There has been hardly any noise about the Head coach as the limelight has been on the star players. Rahul Dravid could redeem himself among the fans by bringing the trophy home.
Last Updated Nov 4, 2023, 9:53 PM IST