ODI World Cup 2023: Ashraf retracts controversial 'dushman mulk' remark; praises 'fantastic' Indian reception
PCB Chairman Zaka Ashraf on Friday retracted his controversial "Dushman Mulk" (enemy nation) comment and commended the warm reception the Pakistan team received in India ahead of the ODI World Cup 2023.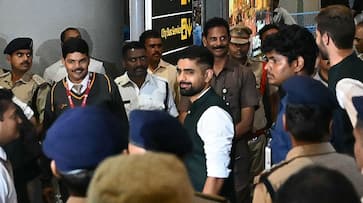 Pakistan Cricket Board (PCB) chairman, Zaka Ashraf, sought to mend relations after indirectly referring to India as an "dushman mulk (enemy nation)" by emphasising the warm welcome received by the Pakistan cricket team upon their arrival in India for the ODI World Cup 2023. Babar Azam and Co's arrival marked their first visit to India in seven years. On the same day, PCB announced a pay increase for its players, with Ashraf mentioning that this raise in central contracts would motivate players as they head into the World Cup in a 'dushman mulk'. However, Ashraf's comments stirred controversy, drawing the ire of the Board of Control for Cricket in India (BCCI).
In an attempt at damage control, Ashraf clarified his stance, stating that the warm reception of the Pakistan team in India demonstrated the love people on both sides of the border have for each other's players.
"Chairman PCB's Management Committee, Zaka Ashraf, has stated that the fantastic reception of the Pakistan men's cricket team in India for the World Cup proves how much love the people of both countries have for each other's players," the PCB said in a statement.
Ashraf specifically highlighted the reception at the Hyderabad airport and congratulated the Indians for organizing such an event. He noted that while India and Pakistan are traditional rivals on the cricket field, they should not be considered enemies.
"This love was evident by the reception arranged at the Hyderabad airport. Zaka Ashraf personally congratulated the Indians over arranging a reception of this kind. He mentioned that whenever India and Pakistan step onto the cricket field, they emerge as traditional rivals but not as enemies," it stated.
The PCB statement also highlighted the fact that although the two teams compete against each other in ICC events and the Asia Cup due to political tensions, the players share good relationships. Pakistani players like Babar Azam, Shaheen Afridi, and Haris Rauf were touched by the warm welcome they received at Hyderabad airport.
Ashraf is expected to attend the highly anticipated India-Pakistan clash in Ahmedabad on October 14 and expressed his desire for the restoration of bilateral cricketing relations between the two countries, allowing cricket fans from both nations to witness live matches.
In a related development, around 50 Pakistani journalists who applied for Indian visas to cover the ODI World Cup 2023 are likely to receive clearance on Monday. However, obtaining a visa for Pakistani nationals can be more time-consuming due to Pakistan being on India's prior reference (PRC) list.
The Pakistan cricket team received their visas less than 48 hours before their departure to India, with their first warm-up game held on Friday, and their key competition matches scheduled for October 6 and October 10.
Last Updated Sep 29, 2023, 6:13 PM IST