'Numero Uno': India become No.1 team across all formats with 5-wicket win over Australia in 1st ODI
As a result of Team India's five-wicket win over Australia at Mohali, the Men in Blue now stands as the number one team across all three formats of the game: ODI, T20I, and Test cricket.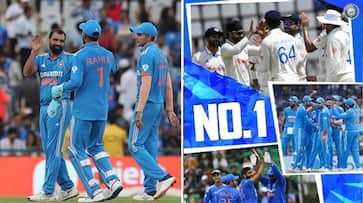 In a captivating cricketing display, Mohammed Shami showcased his crafty bowling prowess, which was gracefully complemented by the finesse and elegance of Shubman Gill. This formidable duo led India to a resounding victory over Australia by five wickets in the opening ODI of the three-match series, held in Mohali on a Friday. This victory not only secured India's triumph in the match but also propelled them to the top of the ICC Men's ODI Rankings, dethroning Pakistan from their previous position. As a result, India now stands as the number one team across all three formats of the game: ODI, T20I, and Test cricket.
Shami's bowling artistry was on full display as he delivered an outstanding performance, securing impressive figures of 5 for 51. His performance served as a powerful reminder of his exceptional skills and played a pivotal role in restricting Australia to a total of 276 runs after India won the toss and elected to field first.
In response, Shubman Gill once again showcased his batting prowess with a brilliant innings of 74 runs off 63 balls. He formed a crucial partnership of 142 runs for the opening wicket with Ruturaj Gaikwad, who contributed 71 runs off 77 balls. This partnership laid the strong foundation for India's chase, which, despite appearing challenging on paper, was executed with relative ease.
India achieved the target in 48.4 overs, with valuable contributions from Suryakumar Yadav (50 off 49 balls) and skipper KL Rahul (58 not out off 63 balls). Only Shreyas Iyer (3) and Ishan Kishan (18) missed out on the batting extravaganza.
Suryakumar Yadav's effort was particularly commendable as he entered the crease when India still needed 92 runs to win. He displayed composure and confidence, culminating in a much-needed half-century.
Shubman Gill, with his ninth half-century in ODIs, was unquestionably the standout performer with the bat. His innings included six fours and two sixes, with a remarkable short-arm pick-up pull shot off Marcus Stoinis leaving spectators awestruck. Matthew Short, the off-spinner, also bore the brunt of Gill's aggressive batting, as he was lofted for a six over long-off.
Ruturaj Gaikwad, who will soon transition to the T20 mode in a few weeks, played aggressively and contributed 10 boundaries to his tally. He displayed a wide array of shots, with cover drives and square drives being particularly effective against Sean Abbott.
For Australia, the only silver lining was leg-spinner Adam Zampa, who found some form with figures of 2/57 off 10 overs. However, the game-changer of the day was undoubtedly Mohammed Shami, even though he may not be a part of India's first-choice XI for the World Cup. Shami's second five-wicket haul in ODIs was a statement of his skill and value to the team.
Shami's performance also added significant pressure on Shardul Thakur (0/78 in 10 overs), the weakest link among the pacers, who was selected primarily for his batting skills. Shami's opening spell was virtually unplayable, and his return to remove a well-set Steve Smith (41 off 60 balls) in his second stint disrupted Australia's momentum.
Jos Inglis (45 off 45 balls) and Marcus Stoinis (29 off 21 balls) managed to add 62 runs for the sixth wicket, taking Australia past the 250-run mark. However, it was still considered a below-par total, as Shami dismissed Stoinis at a crucial juncture to slow down Australia's scoring.
While Warner (52 off 53 balls), Smith, and Marnus Labuschagne (39 off 49 balls) all got starts, their failure to convert these starts into substantial scores proved detrimental to Australia on a day when the Indian bowling unit, while not exceptional, was supremely effective.
All eyes were on Ravichandran Ashwin (1/47 in 10 overs), who initially appeared rusty but eventually found his rhythm in the second spell. A strategic change of ends by KL Rahul during the second spell brought improved figures of 4-0-11-1.
Australia also suffered from unusual dismissals, including Labuschagne's unfortunate departure when an Ashwin delivery ricocheted off Rahul's pads while Labuschagne was out of his crease. Additionally, a miscommunication led to the run-out of Cameron Green (31 off 52 balls), who was establishing a partnership with Jos Inglis.
However, it was Mohammed Shami who stole the show, demonstrating his versatility as a seam and swing bowler with magical control over the cricket ball. His opening over set the tone, and his second spell, including a sharp in-cutter that dismissed Steve Smith, proved to be the turning point of the match. In his third spell, he bowled another delivery that breached the stumps, ending Marcus Stoinis' resistance. With Shami leading the charge, India's victory seemed almost inevitable.
Last Updated Sep 22, 2023, 10:26 PM IST