IPL 2021: Watch Agastya's another day out with Hardik Pandya and Natasa Stankovic
Hardik Pandya keeps scaling new heights as an all-rounder for Team India, while currently, he is doing the same for Mumbai Indians in the Indian Premier League. As for his personal life, his son Agastya, too, is having a great time, along with his mother, Natasa Stankovic.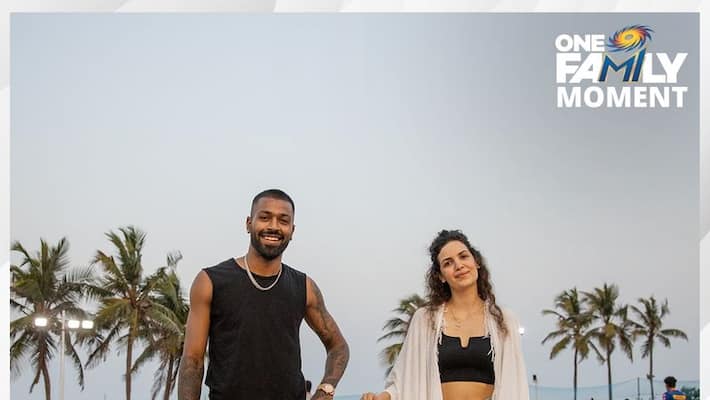 Indian all-rounder Hardik Pandya is a familiar name at the international level and the Indian Premier League for Mumbai Indians. Also, he has made a name for his personal life, involving his Bollywood wife Natasa Stankovic and son Agastya.
Since last year, Pandya has been all over social media after getting engaged and eventually hitched to Natasa Stankovic. In July, Agastya was born, as he, too, has been rocking the internet ever since.
Agastya has been travelling with his family to Pandya's cricketing duties and is currently in Chennai for Pandya's ongoing IPL 2021 stint with MI. Recently, Agastya had an incredible day out with his parents.
Follow all IPL 2021 updates here
In a photo shared by Natasa, Agastya is seen in an inflatable in the swimming pool with his mother and Krunal Pandya's wife, Pankhuri Sharma. Natasa captioned it with "☀️💙" emojis.
Also, Pandya shared some pictures, where Agastya is lying down on his chest, while the former lies in the tree's net rope line at the team hotel's garden. Agastya is also seen enjoying the beach view, while a video shows Pandya swinging in the net while laying with Agastya. Pandya captioned it, "☀️ the kind of Sundays I love ❤️".
Earlier, both Natasa and Pandya had shared other photos before the start of the tournament from the team hotel, as Agastya had some enjoyable moments.
Last Updated Apr 11, 2021, 6:57 PM IST