India vs England 2020-21: Virat Kohli shares workout video from hotel room
India and England face off for the Anthony de Mello Trophy in a four-Test series, starting February 5. The players are currently quarantining in Chennai, while they continue to train as much possible at their hotel. Similarly, Virat Kohli is training in his hotel room.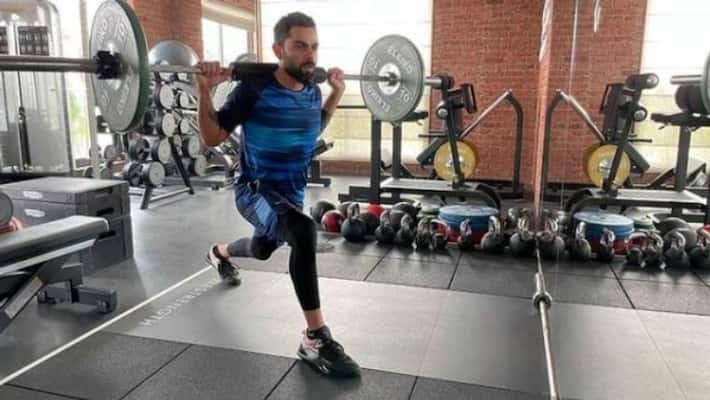 With just around a week to go for the Anthony de Mello Trophy, the Indian and English players prepare themselves for the gruelling four-Test series, starting February 5 in Chennai. However, before the action gets underway, players from both sides are quarantining in a hotel, in Chennai.
The players would only get to train themselves for three days, starting Tuesday. England would go ahead in the series without a proper warm-up game because it is already coming off a two-Test series in India's neighbouring sub-continent country, Sri Lanka, where it made a 2-0 clean sweep.
As the players wait until Tuesday to resume proper training, they train themselves to some extent and as much possible in their hotel rooms itself. Recently, Indian skipper, Virat Kohli shared a video of himself training similarly.
ALSO READ: Indian umpires to officiate during Chennai Tests
He is seen working out on an indoor exercise bike, while a Punjabi song plays in the background. Kohli captioned the post, "PropheC music and gym equipment is all you need during quarantine days 😁. Work can be put in anywhere if you really want to. ✌️have a great day everyone."
Earlier, Kohli had shared a couple of workout images. While in one he is seen squatting with heavy weightlifting on his shoulders, the other happens to be a typical click pose for the camera from a workout session in his gym.
It would be Kohli's first international series following the birth of his child, a baby girl, earlier this month. He was on paternity leave after the first Test in Australia last month.
Ajinkya Rahane replaced him and led to a victorious performance, with India retaining the Border-Gavaskar Trophy. Meanwhile, India is also the defending champion of the Anthony de Mello Trophy.
Last Updated Jan 29, 2021, 5:48 PM IST