India vs England 2020-21, 1st Test: Viral video of Siraj grabbing Kuldeep by neck has internet talking
India is taking on England in a tyring four-Test series for the Anthony de Mello Trophy. The opening game is being played in Chennai intensely. Meanwhile, fans wonder if everything is fine between Mohammed Siraj and Kuldeep Yadav, after a recent viral video.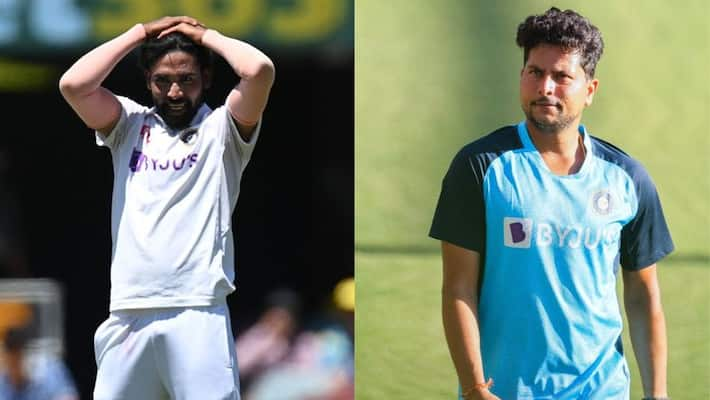 Team India is involved in a tricky tie against England in the opening Test for the Anthony de Mello Trophy, at the MA Chidambaram (Chepauk) Stadium in Chennai. As of Day 3, the visitor seems to be in firm control of the game and is in the driver's seat.
While India continues to struggle, fans are wondering if everything is all right in the Indian camp. A video from Day 2 of the Indian dugout has gone viral, which has the internet talking on whether there is indifference between a couple of Indian players.
In the video, during the end of day's play, pacer Mohammed Siraj, who is not a part of the playing XI, is seen patting a playing member of India on the back, in the pavilion. Meanwhile, as chinaman Kuldeep Yadav, who too is not a member of the playing XI, tailgates, Siraj grabs hold of his neck. However, what happened next is unknown, as the camera pans towards Indian head coach, Ravi Shastri.
ALSO READ: Here's how Hardik Pandya is keeping himself fit
While fans are curious to know whether there was indeed a heat between the two players, it could also have possibly been a friendly gesture between the two. It is unsure of the Board of Control for Cricket in India would look into the matter and investigate it. Simultaneously, no such issue has also been reported from the Team India management, which could indicate, that it was just a friendly stand-off.
Match summary
England won the toss and elected to bat first, as it was dismissed for a commanding total of 578, with skipper Joe Root playing a commendable knock of 218, while Jasprit Bumrah and Ravichandran Ashwin were the Indian bowling stars. Meanwhile, India is off to a shaky start in the first innings, as it looks to avoid a follow-on.
Brief scores: England 578 (Sibley 87, Root 218, Stokes 82; Ishant 2/52) leads India 229/6 (Pujara 73, Pant 91; Bess 4/53) 348 runs.
Last Updated Feb 7, 2021, 4:13 PM IST