India-Australia 3rd ODI in Bengaluru: Full list of items banned inside stadium
If you going to Bengaluru's M Chinnaswamy Stadium to watch India-Australia 3rd ODI on Sunday (January 19), make sure you don't carry these items into the stadium. KSCA has issued a list of banned items. Also, banners, placards can't be taken inside the stadium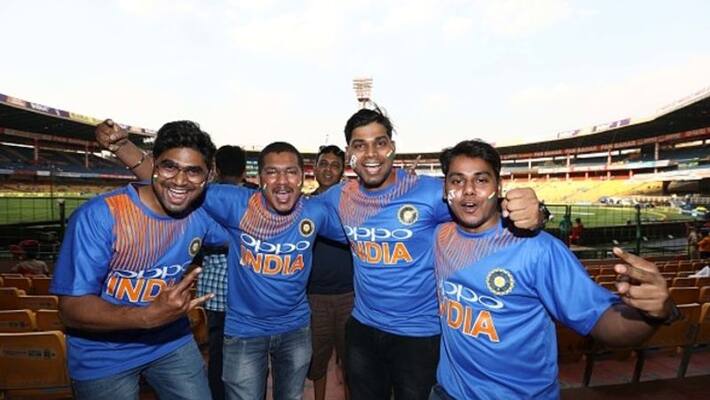 Bengaluru: The Karnataka State Cricket Association (KSCA) has issued guidelines to spectators who will head to Bengaluru's M Chinnaswamy Stadium to watch the third ODI between India and Australia on Sunday (January 19).
Stating that the KSCA is fully geared up to host the series-decider, the association's secretary Santosh Menon said the state association could initiate "legal action" against those fans who try to "disturb peace" or "disturb the match".
Also read: Full list of BCCI's contracted players
The KSCA listed out the list of items that are banned. It also stated that placards, banners and other things are not allowed into the stadium. The KSCA requested the public to extend co-operation for the successful conduct of the match.
"The KSCA urges the spectators to come and enjoy the match at this unique stadium and requests the spectators not to indulge in any other diversion such as raising political slogans, display of banners against any contentious issues, display of placards, etc. The public may kindly note that placards, banners, marker pens etc are not permitted into the stadium," Menon said in a press release.
"To ensure security, the police personnel will be deployed across the stadium and if any spectator is found indulging in any activity which could be considered illegal including attempt to disturb peace or disturb the match, legal action could be initiated against them," he added.
The three-match series stands at 1-1. It is expected to be a full house on Sunday in Bengaluru. The match starts at 1.30 pm IST and stadium gates will open at 11 am.
Here is the list of items that are not permitted inside the stadium
Explosive materials, lighters, cigarettes, beedis, match boxes, water cans, water bottles, fire arms, toy gun, knife, scissors, nail cutters or similar sharp objects, or any other weapons, fire crackers, smoke bombs, flares, petrol, diesel and other inflammable materials, any other items considered detrimental in maintaining safety and security in the stadium.
Video and still cameras, binoculars, handicam, laptops, tablets, IPod, pen drive, power banks, electronic gadgets such as head phones, earphones
Alcohol, narcotic substances, perfumes, gels, cosmetics
Flag sticks, umbrella, backpacks, thermos flask, brief case, helmet, ghutka, supari
Pets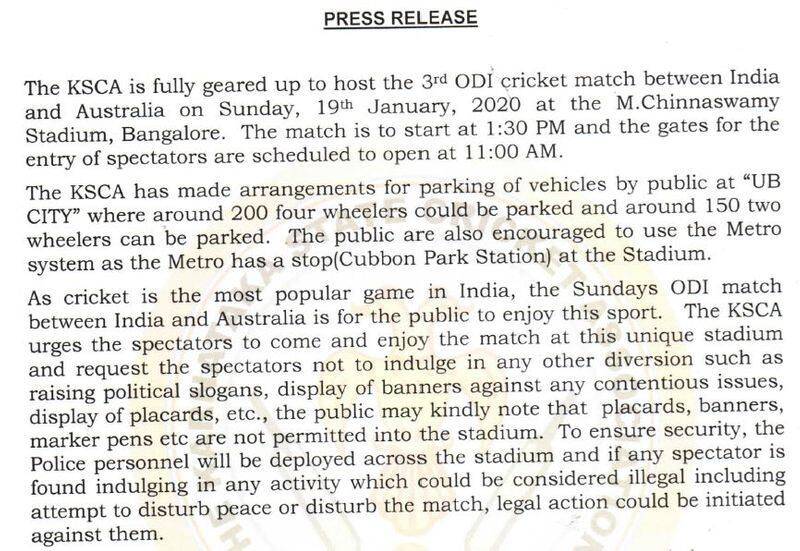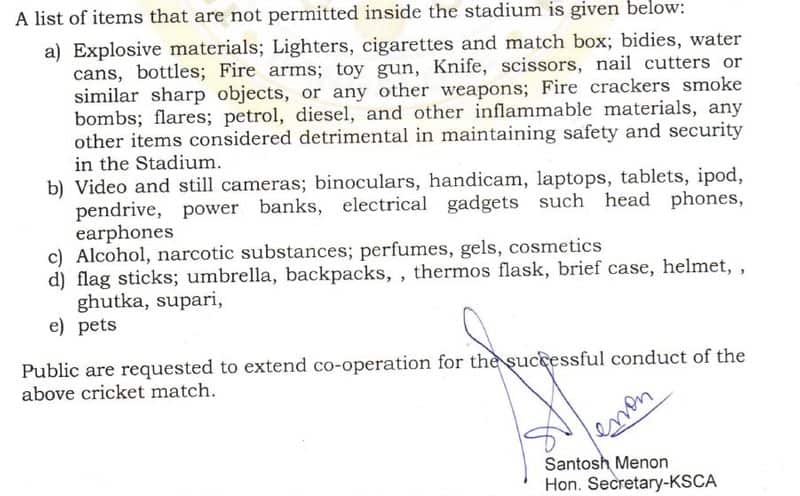 Last Updated Jan 18, 2020, 11:34 AM IST