ICC World Cup 2023 schedule and venues to be announced during ICC World Test Championship Final - Reports
The ICC World Test Championship 2021-23 Final happens on June 7 at The Oval in London between India and Australia. Meanwhile, the schedule, groups and venues for the ICC World Cup 2023 are expected to be announced during the WTC Final.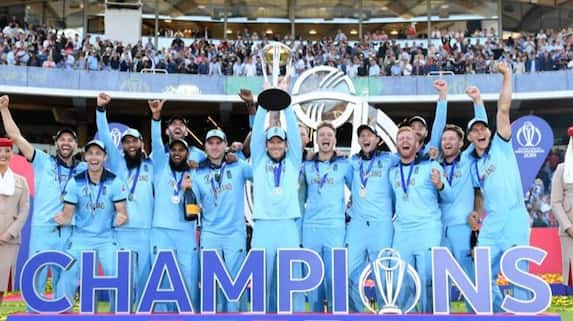 The schedule and venues for the upcoming 2023 ICC World Cup in India is expected to be announced during the final of the 2021-12 ICC World Test Championship (WTC) in London, Board of Control for Cricket in India (BCCI) secretary Jay Shah said on Saturday after the board's Special General Meeting (SGM) in Ahmedabad on Saturday.
A decision on the Asia Cup 2023, to be held before the CWC, will also be taken in the coming days as representatives of some of the Asian Cricket Council (ACC) members are here for the 2023 Indian Premier League (IPL) final, to happen on Sunday between four-time former champion Chennai Super Kings (CSK) and defending champion Gujarat Titans (GT).
CATCH ALL IPL 2023 UPDATES HERE
"The venues for the ICC Cricket World Cup 2023 will be decided at a press conference during the ICC World Test Championship Final. The complete schedule for the tournament will also be revealed. The future of the Asia Cup 2023 will be decided once we have a meeting with the ACC members [Test playing nations] and the Associate nations," Shah said.
The BCCI secretary informed that 15 stadiums have been shortlisted for improvement in basic facilities for the fans, keeping them in mind and more stadiums will be added at a later stage. Grant Thornton has been given the task for this purpose. The BCCI will also announce specific committees in a week's time, which will handle the CWC in India and the Women's Premier League (WPL), along with a committee to draft the POSH (Prevention of Sexual Harassment) policy.
ALSO READ: WTC Final, IND vs AUS - Why Ricky Ponting is rooting for Scott Boland if Josh Hazlewood is unfit?
Shah informed, "As far as the venues for the ICC Cricket World Cup are concerned, each office-bearer will be responsible for each venue. We are looking at all the metros as venues for the tournament. We will create a committee to structure the POSH policy. The draft is ready. It will be presented before the AGM for ratification and necessary approvals."
Additionally, the proposed limited-overs series between India and Afghanistan will occur before the CWC, but the dates and venues are yet to be finalised. Shah added that the Impact Player rule in this IPL has been appreciated by all teams and players, which has resulted in a record number of totals in excess of 200, with the boundaries and sixes also crossing the 1,000 and 2,000 mark.
Last Updated May 28, 2023, 12:39 PM IST