"From fixer to sixer": Harbhajan Singh, Mohammad Amir engage in heated Twitter spat
The banter between Indian and Pakistani cricketers continue amidst the 2021 ICC T20 World Cup. Meanwhile, Harbhajan Singh and Mohammad Amir have engaged in the same recently.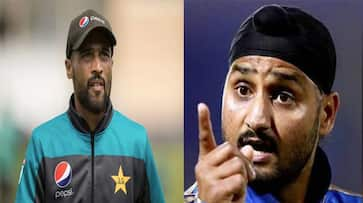 The Pakistanis are jubilant after defeating arch-rival India in the ICC T20 World Cup 2021 on Sunday. It was Pakistan's first-ever win against the side in the competition and any World Cup event. Consequently, it is now the turn of the Pakistanis to pull the legs of the Indians. However, things have led to something harsh between a few.
ALSO WATCH: Shoaib Akhtar walks out of PTV show after being asked to leave
Veteran Indian off-spinner Harbhajan Singh was involved in a heated Twitter exchange with Pakistani pacer Mohammad Amir. It began when Amir taunted Harbhajan with Pakistan's ten-wicket win over India on Sunday. As things progressed, it escalated to a point where Harbhajan had to bring in Amir's infamous involvement in the spot-fixing scandal in 2010.
ALSO READ: T20 World Cup 2021, PAK vs NZ (Super 12): Pakistan edges closer to semis with a 5-wicket win over Kiwis
Amir began by asking if Harbhajan had broken his television set after watching Sunday's game. Harbhajan replied by posting a video of him hitting a six off him during Asia Cup 2010.
ALSO READ: Waqar Younis apologises for 'Namaz before Hindus' jibe after India-Pakistan T20 World Cup match
Amir replied that he was busy watching his bowling when Shahid Afridi smashed him for four consecutive sixes during a Test match. At this point, Harbhajan brought forward the spot-fixing fact, asking him how much he charged for it. "Shame on u and ur other supporters for disgracing this beautiful game," he stated.
ALSO READ: T20 World Cup 2021: Temba Bavuma shocked at Quinton de Kock's decision to not take knee
Amir continued to stir by using derogatory words at Harbhajan. The latter again brought up the spot-fixing issue and stated that it is all about money for people like Amir. "Get lost. I feel yuk talking to people like you for insulting this game and making people fool with ur acts," he noted.
ALSO READ: T20 World Cup 2021, South Africa vs Windies (Super 12): Markram's sublime 50 hands 8-wicket win to Proteas
At this point, Amir brought up Harbhajan's illegal bowling action and reminded him of the mauling Pakistan did to India on Sunday. He also asserted that Pakistan would win the tournament while Harbhajan should walk in the park. Harbhajan again shared his six-hitting video and stated, "Fixer ko sixer.. out of the park". Amir ended things by once again using disparaging remarks against Bhajji.
Last Updated Oct 27, 2021, 3:51 PM IST