ODI World Cup 2023: Virat Kohli's unshaken composure amidst the Cricket frenzy
Virat Kohli maintains his unwavering composure amidst the intense fan support, the celebration of his birthday, and the pressure of the Cricket World Cup.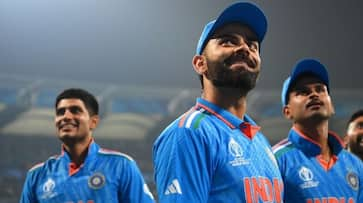 Amidst all the excitement and frenzy, Virat Kohli maintains his composure and continues with his performance. India is set to face South Africa in Kolkata on Kohli's 35th birthday, and the attention on him is only increasing.
As Virat Kohli steps into the practice nets at Eden Gardens on a Saturday evening, a small group of fans in the stands begins chanting "King Kohli." He motions for them to be quiet during the training session, and instantly, there is complete silence. Security personnel, police, and crowd management staff seem unnecessary.
When Hardik Pandya gets injured while bowling against Bangladesh, Kohli steps in to complete the over, creating a raucous reaction in Pune. In a match against Sri Lanka, he conducts the fans at the Wankhede Stadium like an orchestra conductor. During a World Cup match against New Zealand in Dharamsala, the digital streaming platform breaks viewership records as he approaches what would have been his 49th ODI century.
India's upcoming match against South Africa coincides with Kohli's 35th birthday. The Cricket Association of Bengal had planned to distribute 70,000 Kohli masks to the crowd and arrange a grand cake-cutting ceremony in front of the fans. However, it was all canceled, perhaps at Kohli's request.
While India's World Cup campaign is in full swing, Kohli continues to maintain a special connection with his fans, almost like modern-day royalty and his devoted subjects. Everyone plays their part - KL Rahul sacrifices singles, and Ravindra Jadeja defends in the death overs to allow Kohli to reach a century.
Coach Rahul Dravid mentions the crowd's support and expresses confidence in Kohli's abilities with the ball if needed. He states that the crowd demanded Kohli's bowling in the last game, and they were close to giving him an over.
If there's one player who can handle such intense scrutiny without any concerns, it's Kohli. However, he is human and, like Sachin Tendulkar nearing his 100th hundred, the attention can be overwhelming. When asked about how Kohli is managing the pressure, Dravid mentions that Kohli has remained relaxed and focused on his performance.
"I think Virat's been really relaxed," Dravid said. "As you can see in his performances, batting really well for us, really keen to do well as he always is. So, look, I haven't noticed anything different. He's always been the same. He's always been professional, always been hardworking, always been switched on. So, nothing different.
"And no, I don't really think he's thinking too much about 49 and 50, and probably certainly not about his birthday getting a year older. I think he's been really focused on winning the tournament and playing some good cricket for us. I think he's doing that really well."
Kohli may not be a wrong-footed bowler, though it might seem that way at times. He has rarely stumbled when batting, and while it's uncertain whether all the attention affects him, it certainly hasn't impacted his performance negatively. In fact, the nationwide celebration of his birthday and support for his milestones could be positively influencing his game.
Also Read: Black marketing of India vs SA WC tickets? Kolkata police sends notice to BCCI seeking information of sales
Last Updated Nov 5, 2023, 12:30 PM IST