ODI World Cup 2023: South Africa's coach analyses shock defeat to Netherlands in mega event
South Africa's cricket team faced an unexpected setback in the ongoing World Cup, suffering a surprising 38-run defeat against the Netherlands.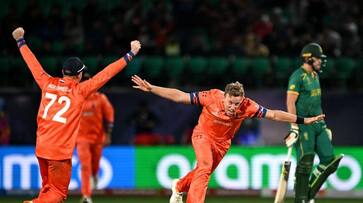 South Africa's coach, Rob Walter, attributed the surprising 38-run loss to the Netherlands in the ongoing World Cup to his team's subpar performance in death bowling and a weak start with the bat. In the rain-interrupted match on Tuesday, the Netherlands made a comeback from 140 for 7 to reach 245 for eight. Subsequently, they bowled out South Africa for 207 in 42.5 overs, causing the second major upset of the tournament. Afghanistan had earlier stunned defending champions England by 69 runs, marking the first upset of the World Cup.
Expressing disappointment, Walter emphasized that his team fell short against the Dutch. He noted that being in control of the game at 140 for 7, the inability to close it out during the death overs was disappointing. Furthermore, a poor start in their batting innings put them on the back foot.
Walter acknowledged strategic errors, particularly in their bowling approach, mentioning misjudgments in the ratios of slow balls versus hard length and on-pace deliveries. The team also gave away more extras than desired.
Despite entering the match unbeaten and with convincing wins over Sri Lanka and Australia, the upsets in the tournament emphasized that no team should be underestimated. Walter emphasized the need to perform consistently and win crucial moments to secure favorable results.
He stressed that cricket is a team sport, and a comprehensive performance in batting, bowling, and fielding is necessary for victory. Walter emphasized that the team needs to maintain consistency and not rely on a single aspect.
Regarding concerns about bowling, Walter disagreed, pointing out that their bowling was a significant factor in their victory against Australia. He emphasized that the fundamental issues in the match against the Netherlands need to be addressed.
In their pursuit of the modest target set by the Netherlands, South Africa stumbled to 44 for 4 by the 11th over. Walter highlighted the valuable lessons to be learned from the match and mentioned the importance of analyzing the game to improve in future matches. He commended the resilience shown by their tail-end batsmen and acknowledged the need for improvement in death bowling.
In conclusion, Walter emphasized the importance of being open to learning and using the experiences, both positive and negative, to progress and perform better in the future.
Also Read: ODI World Cup 2023: Dutch cricket team shatters records with historic upset against South Africa
Last Updated Oct 18, 2023, 1:00 PM IST