Coronavirus lockdown: Watch how Hardik Pandya, Krunal Pandya are 'working from home'
Hardik Pandya and Krunal Pandya are 'working from home' during the 21-day lockdown due to coronavirus (COVID-19) pandemic. Watch the video to know more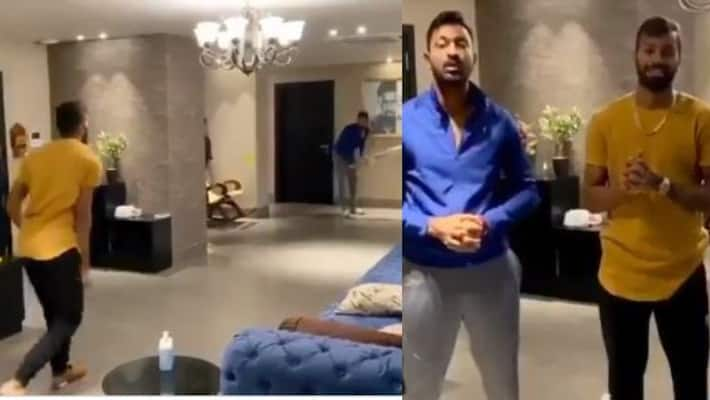 Bengaluru: Cricketers Hardik Pandya and Krunal Pandya have shown people how to have "fun" indoors amid the 21-day lockdown in India due to the novel coronavirus (COVID-19) pandemic.
Team India all-rounder Hardik and his brother Krunal have turned to indoor cricket. Krunal posted a video on his Twitter account where he is batting and Hardik is bowling. For some fans, this is 'work from home' from the Pandya brothers.
Also read: Virat Kohli, Anushka Sharma donate to PM CARES Fund
During the indoor game, both brothers promote the importance of keeping clean hands. They use a hand sanitiser to clean their hands after play.
"We can have fun indoors too Please stay home and be safe everyone @hardikpandya7 (sic)," Krunal posted along with the video.
Also read: List of cricketers who donated to PM CARES Fund
"Avoid going out. You can have fun indoors, just like me and Krunal," Hardik said in the video.
Earlier too, Hardik had urged everyone not to go out of their homes. He had tweeted on March 20, "Safety first everyone! Let's take all the precautions necessary to fight #CoronaVirus. Stay indoors, wash your hands, be proactive and remain calm. Also, respect to all the professionals out there who are doing the best they can to protect us (sic)."
Both Hardik and Krunal play for Mumbai Indians (MI) in the Indian Premier League (IPL). The 13th edition of IPL was schedule to start on March 29 but has been deferred till April 15 due to coronavirus. It is unlikely that the BCCI will organise IPL 2020 next month.
Last Updated Mar 30, 2020, 3:55 PM IST