ICYMI: 50 Covid updates from across India in the last 24 hours
Here is a roundup of all the Covid-19 updates from across the country. Read and be informed.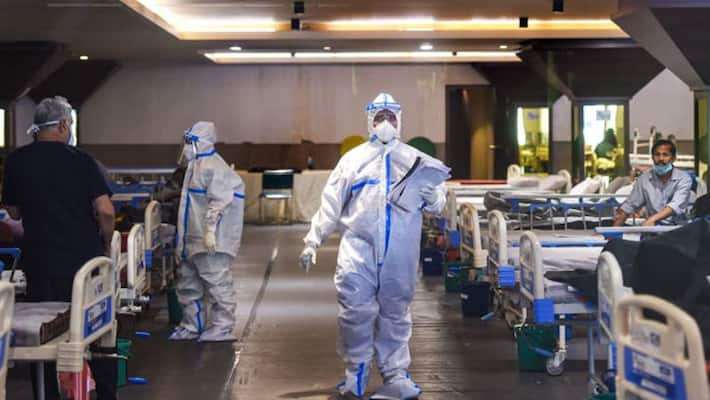 1) Delhi Chief Minister Arvind Kejriwal apologised to Prime Minister Narendra Modi today during the review meeting to discuss the oxygen crisis over a protocol breach. Portions of Prime Minister Modi's discussion with Arvind Kejriwal, which was beamed on television channels, showed the Delhi Chief Minister appealing to the Prime Minister to pick up the phone and call a certain chief minister who was not allowing oxygen-carrying tankers from entering the national capital.
---
2) Central Public Works Department has issued guidelines for use of air conditioners in offices and restaurants. The guidelines say that the AC temperature setting should be between 24 to 30 Degree Celsius, the maximum intake of fresh air and adequate cross-ventilation must be ensured.
---
3) Amid a sudden surge in the number of novel coronavirus cases in the country, Zydus Cadila on Friday announced that it has received restricted emergency use approval from the Drug Controller General of India for the use of 'Virafin', in treating moderate Covid-19 infection in adults. Announcing the decision the pharmaceutical company said that 91.15% of patients treated with PegIFN tested RT PCR negative by day 7.
---
4) Air passengers travelling from Delhi, Uttar Pradesh, Madhya Pradesh, Gujarat and Chhattisgarh to West Bengal from April 26 onwards will have to present negative Covid reports, no older than 72 hours.
---
5) The Oxygen Express, which departed from Visakhapatnam on Thursday, arrived at Nagpur Junction railway station with 7 oxygen tankers on Friday. Three of the tankers have been unloaded in Nagpur.
---
6) Prime Minister Narendra Modi interacted with leading oxygen manufactures of the country via video conference and appreciated their efforts to increase their production in the last few weeks. PM Modi thanked the industry for diverting industrial oxygen to meet medical requirements in the country.
---
7) Uttarakhand government says that the vaccine will be administered free of cost to people aged above 18 years at both government and private hospitals.
---
8) A gang has been busted by Manak Nagar police in Lucknow which was involved in selling fake Remdesivir vials. Lucknow Police Commissionerate informed that the accused were selling them for Rs 20,000 each to Covid patients. 
---
9) Punjab Chief Minister Captain Amarinder Singh has ordered immediate recruitment of 400 nurses and 140 technicians to govt medical colleges in view of the spike in cases in the state.
---
10) "Safety and awareness are the two principles we need to abide by and fight the second wave of Covid-19," said Prime Minister Narendra Modi while reviewing the pandemic situation with chief ministers of high-burden states.
---
11) Prime Minister Modi told Chief Ministers that the central government is working on all possible options to reduce the travel time and turnaround time of oxygen tankers. For this, Railways has started Oxygen Express. Empty Oxygen tankers are also being transported by the Air Force to reduce one-way travel time.
---
12) Andhra Pradesh government has decided to impose a night curfew, from 10 pm to 5 am, from April 24 onwards amid the prevailing Covid situation in the state.
---
13) Union home ministry has written to all states and Union Territories to ensure adequate security to oxygen-transporting vehicles and to make provisions for exclusive corridors for transportation. The central government has prohibited the supply of oxygen for industrial purposes, except those for few essential sectors.
---
14) Mumbai Police informs that those who needed to urgently travel outside the city can apply for an e-pass on http://covid19.mhpolice.in. They can either keep the pass on smartphones or paste its printout on their vehicles. This particular pass is not to commute inside the city.
---
15) Armed Forces Medical Services is importing 23 oxygen generation plants and containers from Germany to cater to the shortage of oxygen in the hospitals during the second wave of Covid-19 across the country. These will be deployed in AFMS hospitals to cater to the Covid patients.
---
16) Bram Health-care Private Limited and Batra Hospital and Medical Research Centre moved the Delhi High Court on the issue relating to shortage of oxygen. Dr Bankata, executive director at Batra Hospital and Medical Research Centre, said: "Inox has refused to give LMO supply beyond 1.7 tons they supplied at 2 pm. We may run out of oxygen by 8-8:30 pm for 275 Covid-19 patients. Need at least 6 tons till we get supply tomorrow at noon."
---
17) Kerala Chief Minister Pinarayi Vijayan takes to Twitter to say, "Vaccination should not be for just those who can afford it. Kerala will uphold independent India's policy of free and universal vaccination. We will keep our word to the people. Maximum vaccination leading to herd immunity is our best defence against Covid-19."
---
18) Second Oxygen special train for Lucknow with loaded tankers of oxygen, which departed from Bokaro on Friday, has reached its destination.
---
19) The Centre will provide free food grains for May and June 2021 under the PM Garib Kalyan Ann Yojana. 5 kg free food grains would be provided to 80 crore beneficiaries for the month of May & June 2021. The Government of India would spend more than Rs 26,000 crore on this initiative.
---
20) According to Medanta Chairman Dr Naresh Trehan, "A patient's lung condition, blood test reports, comorbidities and age create a scenario under which we can say if it is right for them to be hospitalized. I would like to tell doctors to keep in mind that who has to be recommended to hospital."
---
21) Bangalore Metro Rail Corporation Limited announced that Metro rail services will be closed on Saturdays and Sundays, in view of weekend curfew.
---
22) Two Indian Air Force C-17 heavy lifters airlifted two empty Linde cryogenic oxygen containers and one IL-76 airlifted one empty Inox container to Panagarh.
---
23) Punjab Chief Minister Captain Amarinder Singh announced that the state government would undertake vaccination in the age group of 18-45 years from May 1.
---
24) The Telangana government airlifted Oxygen tankers to Odisha to save three days in bringing back medical oxygen supplies to the state. State Medical and Health Minister E Rajender and state Chief Secretary Somesh Kumar supervised the exercise at Begumpet airport.
---
25) Taking into account the rise in Covid cases, the Uttarakhand government has decided to undertake a sanitization process in all government offices on Sunday.
---
26) Music composer Shravan Rathore, of popular musician duo Nadeem-Shravan, passed away in a private hospital in Mumbai on Thursday night due to Covid-related complications.
---
27) Indian Army to add 400 beds over next one week to its exclusive Covid-19 facility at Base Hospital in the Delhi Cantonment. It has created an additional 250 bedded Covid care facility in the Cantonment for serving personnel.
---
28) Mumbai has reported 7,221 new Covid-19 cases and 72 fatalities in the last 24 hours.
---
29) Maharashtra, meanwhile, reported 66,836 Covid 19 positive patients and 773 deaths in the last 24 hours. 
---
30) Union Home Minister Amit Shah says Dhanvantari Covid Hospital will be functional from Saturday with 950 beds and 250 ICU beds. He also said that Gujarat has more ICU beds in comparison to other states. A 1,200-bedded hospital, including 600 ICU beds, will be built in association with Tata Trust Gandhinagar. 
---
31) Government has set up a control room in DPIIT to monitor the issues of internal trade, manufacturing, delivery and logistics of essential commodities during the Covid pandemic.
---
32) Tamil Nadu has reported 13,776 new Covid-19 cases and 78 deaths in the last 24 hours. 
---
33) Andhra Pradesh reported 11,766 new Covid-19 cases and 38 deaths in the last 24 hours.
---
34) Union Minister Mansukh Mandaviya said that Remdesivir production capacity has now been ramped up to over 90 lakh vials per month. Earlier the capacity was 40 lakh vials per month. The minister said that soon, three lakh vials per day will be produced.
---
35) A total of 13 people lost their lives in a fire that broke out in the ICU ward at Vijay Vallabh Covid Care Hospital in Virar in Maharashtra's Palghar district at around 3 am on Friday.
---
36) French President Emmanuel Macron sends a message of solidarity to India. "I want to send a message of solidarity to the Indian people, facing a resurgence of Covid-19 cases. France is with you in this struggle, which spares no one. We stand ready to provide our support."
---
37) All passengers going to Swaraj and Shaheed Dweep and Little Andaman will also undergo compulsory home quarantine for 10 days. Any violation will attract a fine of Rs 5000 each time.
---
38) Karnataka govt directs private hospitals to refrain from making negative RTPCR results mandatory for patients seeking admission for non-Covid reasons. However, a Covid test shall be mandated in case of any invasive procedures after admission.
---
39) AIIMS has postponed the INI-CET PG 2021 entrance exam till further notice, due to the current Covid-19 situation
---
40) Mumbai Police has discontinued the colour-coded sticker system for vehicles. However, thorough checks shall continue and we hope you will stand by us in taking on COVID-19 and avoid all non-essential and non-emergency movement outside the home," the police tweeted.
---
41) Telangana Health Department has urged people who are returning from Kumbh Mela to isolate themselves for 14 days and if they have any symptoms then they must get tested immediately.
---
42) British Prime Minister Boris Johnson has said that he was looking at what he could do to help India, where the coronavirus pandemic is entering a deadly new phase with which its health services are struggling to cope.
---
43) Goa government has lowered the existing capped price for Covid-19 treatment in private hospitals from Rs 10,000 per day to Rs 8,000 per day for treatment in a general ward.
---
44) In wake of increasing Covid-19 cases in Lakshadweep, Southern Naval Command at Kochi has deputed two Naval Ships as 'Oxygen Express' to ferry Oxygen cylinders to the islands and also to collect empty cylinders back to the mainland for refilling.
---
45) Haryana has reported 11,854 new Covid-19 cases and 60 deaths in the last 24 hours.
---
46) Delhi has reported 24,331 new Covid-19 cases and 348 deaths in the last 24 hours.
---
47) Karnataka has 26,962 new Covid cases and 190 fatalities in the last 24 hours.
---
48) This weekend Kerala will see restrictions similar to lockdown. Only essential services and emergency travel to be allowed. There is a cap of 75 people indoor and 150 outdoor for marriages. A maximum of 50 people allowed for funeral services.
---
49) Kerala reported 28,447 positive Covid-19 cases and 27 deaths on Friday.
---
50) West Bengal reported 12,876 new Covid-19 cases and 59 deaths in the last 24 hours.
Last Updated Apr 24, 2021, 9:08 AM IST