Gold prices today, November 3: 24-carat gold at Rs 47,850 per 10 grams
Jewellers reported strong sales on Dhanteras in the wake of a slight dip in gold prices.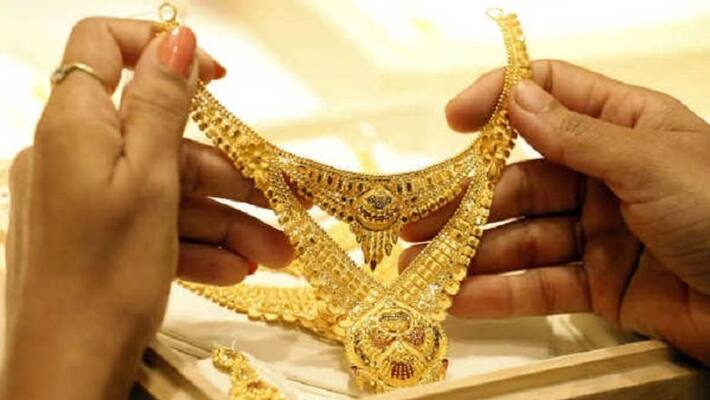 Gold prices in India witnessed a jump of Rs 110 over Tuesday's market price. The price of the 24 carat yellow metal touched Rs 47,850 per 10 grams on Wednesday compared Rs Rs 47,740 on Tuesday. Silver, meanwhile, saw massive jump in prices with the going rate for a kilogram touching Rs Rs 64,700 on Wednesday compared to Rs 64,400 a day ago.
Let's take a look at the prices of 22 carat gold across cities today:
Kerala
Rs 44,810 per 10 gram
Mumbai
Rs 46,860 per 10 gram
Chennai
Rs 45,090 per 10 gram
Pune
Rs 46,100 per 10 gram
Delhi
Rs 46,960 per 10 gram
Bengaluru
Rs 44,810 per 10 gram
Hyderabad
Rs 44,810 per 10 gram
Kolkata
Rs 47,310 per 10 gram
Ahmedabad
Rs 45,890 per 10 gram
Lucknow
Rs 45,610 per 10 gram
As per Multi Commodity Exchange data, gold futures prices fell by 0.50 per cent to Rs 47,385.00 while silver futures declined by 0.32 per cent to Rs 63,021.
According to several media reports, jewellers reported strong sales on Dhanteras in the wake of a slight dip in gold prices. India Bullion and Jewellers Association, the leading trade body, estimates that Dhanteras sales figures may return to pre-Covid level and register at least a 20 per cent growth over the last year.
Also fuelling Dhanteras sales is the fact that gold prices have been at least six per cent lower than where they were in the corresponding period last year. As per commerce ministry data, gold imports zoomed to about $24 billion in the April-September period, which is nearly four times the $6.8 billion import figure in the same period last year.
Jewellers have been witnessing a demand growth for gold in tier-2 cities. Some jewellers say that after two years of challenges, they are seeing customer interest in investing in jewellery. Some even said that they had booked orders for 33 per cent more gold in October 2021 compared to the same month last year.
Also Read
Petrol, diesel prices today, November 3: Relief after 7 days, no rate hike today
How India can be among top electronics exporters in three to five years
Last Updated Nov 3, 2021, 11:20 AM IST