Get instant finance without leaving home with a Bajaj Finserv Personal Loan
You can now get instant personal loans in just 2 clicks anywhere, anytime with Bajaj Finserv. This process needs no touch and it comes with 100% online disbursal facility to help you get access to funds for all your needs instantly.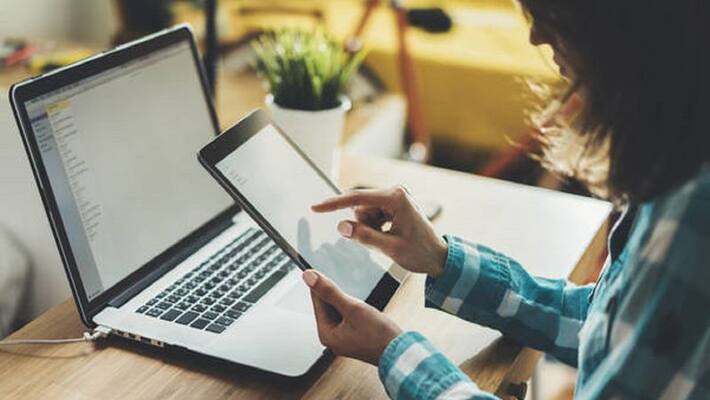 Life is unpredictable and unforeseen expenses can crop up any time. Personal loans are a financing solution that can help you manage all your planned and unplanned expenses conveniently. Financing your child's higher education, consolidating all your credit card debts, or even paying for a medical emergency – personal loans can be an effective way to avail funds.
But availing a personal loan traditionally can be a tedious process. You may have to visit a branch of the financial institution, fill out lengthy forms, submit a long list of documents, and wait for a couple of days before your loan application is approved. Post that, it may take another day or two for your loan to get disbursed.
But what if there was a simpler way? As technology is getting more and more sophisticated, so has the process of availing a loan. Most financial companies have made it easier to avail personal loans. 
One such financial institution that makes availing finance hassle-free is Bajaj Finserv.  It offers 100% online personal loans with no-touch verification and real-time disbursal to its customers. 
This means, you get money in your bank account immediately in just 2 clicks. That too, without having to visit a branch or submitting any paperwork. 
Here are some features that make Bajaj Finserv Personal Loans an easy financing solution for all your needs.
Get instant finance
If you are an existing Bajaj Finserv customer, you can get an instant personal loan with disbursal in your bank account in just 20 minutes. The 100% online disbursal facility enables you to take care of all your expenses without wasting any time. 
Enjoy a paperless approval process
Availing an instant personal loan is simple. Just review your details in the pre-filled online form and get a paperless approval. As the disbursal happens online, this is a completely no-touch process. There are no documents required for existing customers.
Avail a high loan amount to meet unplanned expenses
As per your eligibility, you can get a high loan amount offered by Bajaj Finserv. From medical bills to home improvement costs to debt consolidation, this loan has no end-use restrictions. You can use this instant personal loan to take care of any planned or unplanned expenses. 
Get collateral-free finance
An instant personal loan from Bajaj Finserv requires no collateral. This makes disbursal quicker as there is no asset to verify or examine. There are no hidden fees applied to your personal loan from Bajaj Finserv, what you see is what you get.
Repay easy with a flexible tenor
Choose a flexible tenor of up to 60 months and repay the loan amount as per your convenience. You can use an online tool such as the EMI calculator to estimate your monthly instalments and better plan your personal loan repayment.
Apply for an instant personal loan from Bajaj Finserv from the comfort of your home and get it now just 2 clicks. To get started, you can check your pre-approved offer by providing your name and phone number. Finance all your needs instantly with Bajaj Finserv Personal Loans.
 
Last Updated Mar 27, 2020, 12:42 PM IST