Explained: Behind the Amul Vs PETA battle over milk
A fierce Twitter battle is currently underway between India's largest dairy brand Amul and the non-profit People for the Ethical Treatment of Animals.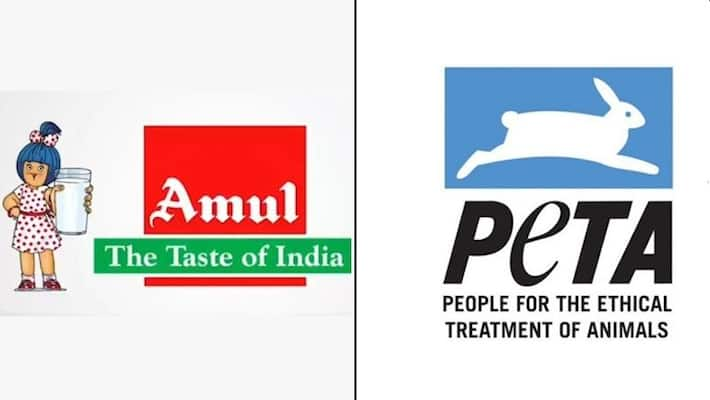 A fierce Twitter battle is currently underway between India's largest dairy brand Amul and the non-profit People for the Ethical Treatment of Animals. 
In a letter to Amul Managing Director RS Sodhi, PETA said the cooperative dairy society should get benefitted from the booming vegan food and milk market. In reply, Sodhi said that dairy farmers in India are mostly landless, and such a move might kill their only source of livelihood.
Following this, Valamji Humbal, the vice-chairman of the Gujarat Co-operative Milk Marketing Federation that sells Amul-branded dairy products, shot off a letter to Prime Minister Narendra Modi and urged him to ban PETA. He alleged that PETA was in cohorts with 'foreign companies' and is part of a larger conspiracy to malign the dairy industry's image. He went on to call PETA an 'opportunistic element spreading misinformation.'
How did the controversy start?
The cooperative dairy society has been against the use of the term milk for plant-based alternatives like almond, oats or soya. Last year, in November, Amul had slammed the makers of these alternatives and approached the Food Safety and Standards Authority of India (FSSAI) to force these companies to remove the term milk for their branding. 
FSSAI had introduced a draft for the same way back in August 2020 and was in discussion with representatives, but the final verdict is yet to be out. Interestingly, many countries do not let these alternatives use the term milk; like in the United States, they use Mylk.
How did the Advertising Standards Council of India get involved?
In March, Amul rolled out a campaign to fight disinformation against milk. So they had advertisements that busted myths of plant-based beverages, etc. They also claimed that milk was a complete food, full of nutrients and vegetarian. 
This angered PETA, Beauty without Cruelty and Sharan India, and they filed a case with the Advertising Standards Council of India. However, the council observed that milk is indeed a rich source of calcium, vitamins, carbohydrates, fats and proteins and has been proven so by science.
How did the matter reach Prime Minister Modi?
PETA, disappointed with the observation of the council, wrote a letter to Amul in May asking them to start shifting to vegan alternatives. They said that the vegan market in India is growing and that since other companies are changing according to the market, so should Amul. 
This angered Amul Managing Director RS Sodhi. He said that most milk farmers of India are landless and so shifting to vegan substitutes might not be feasible for them. In fact, this will push them to ruins. 
He further noted that in India, dairy is not industrialised as it is abroad. 
Dairy is but a family-based business where families sell their excess produce in the form of a cooperative. 
After this heated exchange, Amul wrote to the Prime Minister.
Why is this issue so important?
The beef and dairy industry has, of late, come under severe scrutiny worldwide for its environmental impact. The vegan lifestyle has been touted by many activists as a healthy and more environmentally-friendly lifestyle. 
However, in India, many farmers attribute almost 30 per cent of their income to milk. As mentioned above, milk farming in India is a family-based cooperative model where every family sells their excess produce. 
Over 8.4 million farmers depend on the dairy sector for their livelihoods every year. Of this, 71 per cent are women (Agriculture Skill Council of India). In fact, India's dairy sector has helped in uplifting the rural economy and improving the livelihoods of people. 
How big is the vegan industry in India?
PETA is right when they point out that the vegan industry has grown leaps and bounds in the world. It is pegged at around two billion dollars in the United States. But in India, it is still at a nascent stage. While the dairy industry in India is valued at over 140 billion dollars, their vegan alternatives till now are at 25 million dollars only. 
Many companies have started vegan alternatives like Sofit, Epigamia, Urban Platter, etc. they still are very small compared to the dairy giants. These companies have, however, gained significant urban footing courtesy of the increased number of lactose-intolerant people in these areas. 
However, these alternatives are not that cost-effective. In Bengaluru, a Nandini tetrapak of 1-litre milk is just 50 rupees, but soya milk from Sofit is over 123 rupees. It is evident that it will take some time for this industry to grow and become more financially viable.
Last Updated Jun 3, 2021, 8:38 PM IST